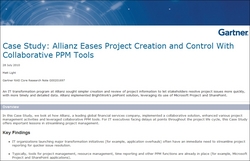 Boston, MA (PRWEB) October 21, 2010
BrightWork Inc., leading provider of work and practical project management software on the Microsoft SharePoint platform, was recently the subject of a Gartner Research case study regarding the successful deployment of their product pmPoint in the leading financial services firm Allianz.
The case study, written by Matt Light from Gartner Inc., takes a look at how "a leading global financial services company, implemented a collaborative solution, enhanced various project management activities and leveraged collaborative PPM tools. For IT executives facing delays at points throughout the project life cycle, this Case Study offers important lessons in streamlining project management."
The report found that:

IT organizations launching major transformation initiatives (for example, application overhauls) often have an immediate need to streamline project reporting for quicker issue resolution
Typically, tools for project management, resource management, time reporting and other PPM functions are already in place
PPM tools in place may be leveraged by companion products
Regarding BrightWork pmPoint, one Allianz PMO lead stated: "It makes PM discipline easier, providing the Programme Managers with a well-rounded view of the work - with the status of all projects available on a single page."
Click here to access this free case study: http://www.brightwork.com/pmpoint/gartner.asp
Want to learn more about Work and Project Management on SharePoint? BrightWork are holding an upcoming webinar called "Project Management on SharePoint in 4 Easy Steps" on October 27th. This free webinar will present a simple four-step approach for transforming project management using SharePoint.
Register now at http://www.brightwork.com/webcasts/index.htm
Attendees will receive a copy of the slides and a copy of the recording.
# # #