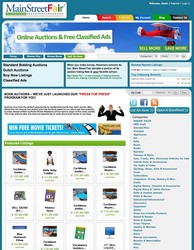 This is a great opportunity for authors to get their books known and increase sells significantly
Rancho Santa Margarita, CA (Vocus) September 9, 2010
Main Street Fair, the eBay alternative for online auctions, has launched a new program to help authors market their books.
Main Street Fair's "Press for Press Program" is twofold. Monthly, Main Street Fair will choose one author who has his or her book listed on the site. Porter Public Relations, a Southern California-based firm, will write a press release about the chosen author's book and distribute it via major online news channels. The release will include hyperlinks to the Main Street Fair page where the book is listed. With just one click, people may purchase the book through Main Street Fair's "Buy Now" service.
To further market the book, the author will be invited to write a summary on Main Street Fair's highly visited blog.
"This is a great opportunity for authors to get their books known and increase sells significantly," said Lisa Porter, CEO, Main Street Fair. "The Internet press releases Porter Public Relations will send out are powerful and reach millions of potential buyers. Those interested in the book will be able to email the author directly or purchase it."
Known authors also will benefit from the online auctions website's Press for Press program. They too will have the opportunity to write a blog about the book they have listed on Main Street Fair. Authors can then make their blog go viral by posting the link on Twitter and notifying Facebook friends. The process is easy: authors simply send a request for approval via the site's "Contact Us" form. Upon approval, the blog administrator will request photos of the author and book, and post the blog with hyperlinks to the listing for easy purchasing.
Main Street Fair, the easy-to-use eBay alternative for online auctions, and free classified ads site, has many benefits and is straightforward about its fees. Listing an item cost nothing until it sells. When it does, the closing fees are much lower than its competitors and there are no hidden charges. As an added feature, the site donates 10 percent of all listing fees to the school of the seller's choice.
"The site is about helping sellers promote their items. It's also about helping America's schools. If we can do both, then we've helped a lot of people."
To make it easy for sellers with storefronts or those listing many items, the site offers the Multi-Lister--an easy do-it-yourself bulk upload system. The Multi-Lister makes it possible for sellers to list thousands of products at once into the main home page category and their own personal storefront category directly from an Excel spreadsheet.
Additionally, Main Street Fair's two-way rating system allows sellers and buyers alike to rate each other—a benefit many other known auction sites don't offer. Furthermore, there are no unnecessary seller restrictions. Additionally, Main Street Fair helps sellers of all types of goods promote their items by writing reviews and inviting guest writers to boast about their product in the Main Street Fair blog.
"Main Street Fair makes online auction selling and buying easy and fun," said Porter.
Sellers new to e-commerce marketplaces or online auctions, can go to the Main Street Fair blog to view a video on how to optimize their listings for better search engine optimization – designed for Main Street Fair as a contribution by world-renowned SEO Expert, Steve Wiideman. Or, they can get selling tips by visiting the "Listing Guideline."
For more information, please contact log in to http://www.mainstreetfair.com or call (877) 797-1398.
###