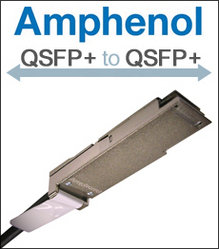 In order to meet the stringent requirements dictated under the latest 802.3ba (40GBASE-CR4) specification; cross-talk, EMI, and insertion-loss characteristics must be tightly controlled.
Endicott, NY (Vocus) September 22, 2010
Amphenol, the world's second largest interconnect manufacturer, recently launched a 40-Gigabit Ethernet qualified QSFP+ Cable series at Cables on Demand (http://www.CablesOnDemand.com), its exclusive online subsidiary. QSFP+ (QSFP Plus) passive copper cable assemblies represent the pinnacle of Amphenol's high-speed design methodology, coupling a superior die-cast "board-as-connector" platform with a high performance cable configuration known as SKEWCLEAR EXF & EXD. Amphenol's precision-engineered QSFP+ cable series is manufactured by Amphenol Interconnect Products of Endicott, New York.
Amphenol's extensive experience in the data cabling market proved essential in developing its new line of QSFP+ Cables according to Nick Blas, Product Marketing Manager for Amphenol Cables on Demand. "As one transcends into Gigabit speeds using copper as the transmission medium, a multitude of effects conspire to degrade signal integrity. QSFP+, operating at data rates of 10.3125 Gbps per channel, pushes the very limits of high-speed circuit design. The Amphenol Interconnect Products Engineering Group navigated around these limitations with several technical breakthroughs."
Many new design aspects were optimized including the PCB, wire, diecast housing and manufacturing processes. Mr. Blas emphasized, "In order to meet the stringent requirements dictated under the latest 802.3ba (40GBASE-CR4) specification; cross-talk, EMI, and insertion-loss characteristics must be tightly controlled." Amphenol's 40-Gigabit Ethernet optimized QSFP+ connector combats unnecessary signal attenuation. EMI performance is significantly enhanced by an upgraded zinc die-cast backshell system.
Amphenol QSFP+ Cables enjoy further performance gains through their use of an innovative new wire configuration from Amphenol's Spectra-Strip division. Known as Spectra-Strip SKEWCLEAR EXF, this extended frequency wire provides a flat frequency response to 20 GHz. "SKEWCLEAR EXF" provides several technological advantages over the competition. By using a new side-drain termination system, crosstalk and impedance discontinuities are dramatically reduced. This benefits the user by allowing use of a thinner gauge wire at a given length, without sacrificing performance. Mr. Blas believes the reduced wire diameter will benefit high density installations where space and flexibility are at a premium.
All Amphenol brand QSFP+ Cables are built around the latest SFF-8436 QSFP+ MSA for broad compatibility with a number of applications. Amphenol QSFP+ passive copper cable assemblies meet or exceed all InfiniBand Trade Association and IEEE 802.3ba (40GBASE-CR4) electrical standards. QSFP+ cables are reverse compatible with existing QSFP enabled ports and are ideal for 40-Gigabit Ethernet, QDR InfiniBand, and other popular communications protocols. QSFP+ effectively merges the capabilities of four individual SFP+ cables into one high-density link. 40-Gig QSFP+ is the ideal interim upgrade on the path to 100-Gig.
Amphenol QSFP+ Cables can be purchased factory direct through the Cables on Demand Website or by calling the Toll Free Customer Service Center at 1-866-223-2860. 1m (3.3 ft) and 3m (9.8 ft) cable lengths are presently available, with additional lengths coming soon. Custom QSFP+ products, including QSFP+ actively equalized copper cables and QSFP+ active optical cables, may be quoted upon request. Amphenol Cables on Demand offers the web's most comprehensive selection of high-performance Datacenter Cable Solutions including Custom CAT6 Rack-Ready Cable Kits, SFP+ Cables, CX4 Cables, QSFP Copper Cables, and a new line of low-power QSFP Active Optical Cables by Luxtera.
Amphenol Corporation (NYSE:APH) is the second largest manufacturer of connectors and cables worldwide, comprised of over fifty industry-leading divisions including Times Fiber Communications, Times Microwave Systems, Teradyne Connection Systems, Amphenol Interconnect Products and Amphenol RF. Since 1934, Amphenol Engineers have designed innovative interconnect solutions such as the BNC and UHF connector series, SKEWCLEAR wire technology, and XCede backplane architecture.
Amphenol Cables on Demand, launched in 2006, is Amphenol's first wholly owned subsidiary optimized for the distribution of Amphenol brand cable products online. Based in Endicott, NY, Cables on Demand offers same day shipping before 3:00PM Eastern on over 3,000 unique cable SKUs. The company's high product mix supports a vast array of applications including Network, Broadcast, Test, Instrumentation, Audio/Video, Data Storage, Clustered Computers, Prototyping, Automation, Industrial Control, WiFi, Automotive and Avionics.
# # #