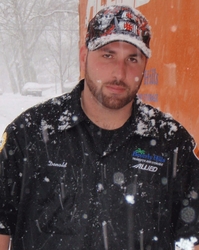 It's absolutely amazing that a four-year rookie could join our fleet and achieve such remarkable performance scores
Westmont, IL (Vocus) April 15, 2010
Allied Van Lines Inc., one of the world's largest moving companies and a subsidiary of SIRVA Inc., announced its 2009 Driver of the Year as Donald Carlisle of Beverly Hills Transfer and Storage in Gardena, Calif. Donald was selected from a group of over 1,600 qualified Allied Van Lines haulers based on his 2009 quality performance scores, claims frequency and safety record.
Donald was studying space physics at Embry-Riddle Aeronautical University when he decided to become a long-haul mover for Beverly Hills Transfer and Storage, a southern California-based moving company. Donald has only been driving for four years now, but his performance and quality scores reflect those of a true driving veteran.
"It's absolutely amazing that a four-year rookie could join our fleet and achieve such remarkable performance scores," said Bill Lyon, general manager of Allied Van Lines. "We're honored to have drivers like Donald as a part of our fleet and congratulate him for a job well done."
To become an Allied Van Lines Driver of the Year nominee, a driver must be designated first as a Master Mover and then chosen as a Driver of the Month. The Driver of the Month award winners are then evaluated based on quality performance scores, claims frequency, safety record and other performance metrics for the prior year. One Allied Van Lines driver is chosen each year and is honored at the company's annual operations conference. The winning driver also receives a custom leather jacket and watch, truck decals and other "perks."
Beverly Hills Transfer and Storage is a southern California moving company, servicing all areas from Santa Barbara to the Mexican border. They're located at 15500 S. Main St., Gardena, Calif. 01969. Additional information can be found at http://www.beverlyhillstransfer.com/.
About Allied Van Lines
Established in 1928, Allied Van Lines, with more than 500 agent locations in North America, is an experienced leader in household goods moving and specialized transportation services. Allied is one of the world's largest moving companies and one of the established global brands of SIRVA Inc., a leader in providing relocation services to corporations, consumers and governments around the world. For more information about Allied Van Lines, visit http://www.allied.com.
About SIRVA Inc.
SIRVA Inc. is a leading provider of relocation solutions to a well-established and diverse customer base around the world. The Company handles all aspects of relocation, including home purchase and home sale services, household goods moving, mortgage services, and home closing and settlement services. SIRVA conducts more than 300,000 relocations per year, transferring corporate and government employees in addition to individual consumers. SIRVA's well-recognized brands include Allied, Allied International, Allied Pickfords, Allied Special Products, DJK Residential, Global, northAmerican, northAmerican International, SIRVA Mortgage, SIRVA Relocation and SIRVA Settlement. More information about SIRVA can be found on the Company's Web site at http://www.sirva.com.
###