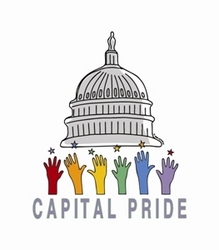 Washington, DC (Vocus) May 7, 2010
Capital Pride's 35th Anniversary Celebration turns the volume to 11 as we approach the final 40-plus events of Pride, truly offering something for everyone. TONIGHT, June 9 celebrate Pride at 35 at a swanky soiree at the Donovan House, featuring a stellar silent auction, performances by Capital Pride Hero, Miss Capital Pride 2010 Destiny B. Childs, Potomac Fever, DJ Keenan Orr and Dane Figueroa Edidi and The Afro Blue Collection. Thursday has more than a dozen events, including Viva Equality, Featuring pop icon Fangoria at Town Dance Boutique; a panel discussion at the National Press Club with the lesbian, gay, bisexual and transgender appointees of the Obama administration; and Women's Spoken Word at the HRC Equality Forum. Capital Pride wraps up the inaugural "Taste of Pride" on Friday, June 11th at Cafe Bonaparte.
The last weekend of Pride begins Friday, June 11 with a wreath laying ceremony with 3 distinguished gay veterans of World War II, Rev. John J. McNeill, Dr. Frank Kameny, and Mr. Jack Strouss at Arlington National Cemetery at 1:30 p.m. Later, celebrate the 4th Annual Latino Pride at the Sumner School from 6:00-9:00 p.m. Then, head over to the 9:30 Club for the Women's Concert and Dance, featuring Goapele and Bitch, plus performances by the Pushovers and DJs vAnniety kills (a.k.a. LesbanAnnie) and DJ Kos. For those who seek something different, Ziegfeld's and Secrets play host to the Friday Night Men's Party, an event that's sure to knock your socks off.
Saturday, June 12 kicks off with Capital Trans Pride 2010 at the Madison Hotel, with 'Transformation Stations' opening at 8:00 a.m. The day features seminars and panel discussions ranging from family issues to how local laws affect transgender people, as well as drag, dance and music performances, and a keynote address by Congressman Barney Frank's Chief of Staff, Diego Sanchez. Rounding out the day's activities will be a performance by one of the funniest men on the comedy circuit, Ian Harvie.
That night, beginning at 6:30 p.m. step outside and see the Washington City Paper's 'Best Parade', featuring more than 160 floats, bands, and marching contingents, including Miss District of Columbia 2010, Jen Carey, Mr. Capital Pride Winz and Miss Capital Pride Destiny B. Childs, our local elected and other officials, and much more. The Grand Marshal of the 35th Annual Capital Pride Parade is Capital Pride co-founder and 2010 Super Hero Deacon Maccubbin. Following the parade, trek up to the Washington Hilton for our closing night party, 'Homo Erectus: The Evolution of Pride' hosted by Brightest Young Things.
Capital Pride wraps up its 35th Anniversary Celebration with the Capital Pride Street Festival, featuring headlining performer Chely Wright on Sunday, June 13 on Pennsylvania Ave., N.W. from 11:00 a.m. – 6:00 p.m. New to the festival this year is a full sports section, including Team DC, the Washington Nationals, the Wells Fargo Interactive Zone, a jousting ring, and an adult moon bounce, all in close proximity to the super-energized Rainbow Stage and the Nellie's Beverage Garden. Returning this year are the very popular Family Section with games, activities and more, and the Arts Corner Stage, which has moved to John Marshal Park just north of Pennsylvania Avenue at 4th Street. For a full listing of performers at the Main Stage, the Rainbow Stage, the Arts Stage, and the festival map, visit CapitalPride.org.
Celebrating its 35th anniversary, Capital Pride takes place June 2-13 across Washington, D.C. featuring more than 60 diverse educational and entertainment events. Capital Pride is a volunteer-based organization that is open to all members, supporters, and allies of the GLBT community and is produced by the Capital Pride Alliance, Inc. a 501(c)3 non-profit organization. For more information about Capital Pride, including how to make a tax-deductible donation, to volunteer, and for a full calendar listing of events, please visit http://www.capitalpride.org.
# # #