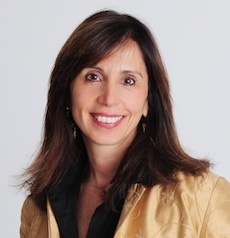 Women continue to be grossly under represented at the most senior levels of organizations including in all Fortune 1000 companies where there are only 26 female CEOs.
Prairie Village, KS (PRWEB) November 23, 2010
Ninety years after women gained the right to vote in the United States, gender equality has yet to be achieved in all sectors of the economy, including business, healthcare, academia, media, and others. By many gender equality measures, women continue to be grossly under represented at the most senior levels of organizations including in all Fortune 1000 companies where there are only 26 female CEOs.
Despite these shortcomings, for one Kansas woman, it is hard to imagine anywhere else in the world where she could have come from the Middle East as a 16-year-old Christian girl to achieve two advanced degrees, rise to a significant management position in the country's largest bank, launch her own business, run it successfully for 12 years, and then stand on the spot where the U.S. Constitution was signed and represent her state of Kansas in the signing of a Declaration of Gender Equality.
"My experience in the United States has been enormously positive and empowering," said Rania Habiby Anderson, a small business owner and expert in the way women work. "I am captivated by Vision 2020 and am helping to energize the dialogue and take action to increase women's leadership in America."
Anderson was nominated in May 2010, along with more than 1,000 other women, to become a National Delegate to Vision 2020. Delegate nominations came from individuals and organizations nationwide, including U.S. governors, senators, and representatives. The national search focused on finding women who have demonstrated a commitment to help women and girls. The process resulted in the selection of 102 extraordinary women, who are serving as chief advocates for women's leadership and equality in their home states and the District of Columbia, and who are willing to mobilize resources to bring about positive change and implement elements of the decade-long Vision 2020 agenda. Anderson was selected as one of two delegates to represent the state of Kansas for a three-year commitment.
"Each of us is committed to giving more women a voice and a role in business, government, media, and education, with each delegate leading a project over the next three years," Anderson said. "My own initiative is focused on driving job creation by supporting the growth of small women-owned enterprises."
Vision 2020's first public event took place in late October 2010, when the full congress of 102 national delegates met at the National Constitution Center in Philadelphia to launch an action agenda to move America toward full gender equality by 2020, which is the 100th anniversary of women winning the right to vote. One by one, the delegates each signed Vision 2020's Declaration of Equality, and in so doing, they collectively advanced the principle that a true sharing of leadership and responsibility among women and men will inspire an unprecedented dimension of American excellence.
"Vision 2020 and its delegates are now off and running, united by one goal," said Lynn Yeakel, Co-Chair of Vision 2020. "Equality is a measure of our democracy. Yet women, who make up 51 percent of the population, represent only 18 percent of top leaders in the United States."
About Rania Habiby Anderson
Anderson is a small business owner and the founder and CEO of Meridian LLC, an executive coaching and business-consulting firm with a highly successful 12-year track record. Meridian's clients are comprised of large marquee companies in Kansas City and across the country, as well as small businesses in the Kansas City market. She began her career at Bank of America where, over a 16-year period, she contributed in a variety of capacities. Throughout her professional and civic life, Anderson has been observing and gathering information about the way women work. She authors a popular blog called The Way Women Work that aims to share the ways working women succeed, providing professional women with information and practical, on-the-job actions they can take to be more successful at work. She also interacts with the global community of women in business through her Linkedin group, Women in Business International.
Anderson is very active in the community as she steadfastly pursues her passion of advocating for and advancing professional women. In 2008, Anderson and three other women founded a women's angel network investor fund, the Women's Capital Connection, which provides capital to emerging women-led businesses. She is the president of the Kansas chapter of the International Women's Forum, on the board of the Women's Foundation of Greater Kansas City and a member of the advisory board of the Women's Employment Network, a non-profit organization that prepares and trains women for employment.
About Vision 2020
Vision 2020 is a national project of the Institute for Women's Health and Leadership at Drexel University College of Medicine focused on ensuring gender equality by energizing the dialogue about women and leadership. In 2010, Vision 2020 will develop and launch its decade-long action agenda to move America toward equality by inspiring and engaging new generations of women and men to finish the work of the suffragists, who pursued women's right to vote as fundamental to social and economic justice. The centennial of the 19th Amendment to the Constitution will be celebrated in 2020.
###