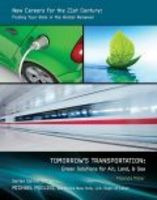 There's no denying that the world economy has experienced major changes during the past few years
Philadelphia, PA (Vocus) July 21, 2010
Mason Crest Publishers announces the New Careers for the 21st Century: Finding Your Role in the Global Renewal book series for school kids ages 12 and up. The cutting edge, 15 book series, which tackles the changing career landscape that young adults are looking at, is in production and scheduled to be in libraries and schools across the country and internationally in September 2010.
"There's no denying that the world economy has experienced major changes during the past few years," said Louis Cohen, Principal of Mason Crest Publishers. "As a result, young adults are looking at a career landscape that has undergone some major upheavals. But there are positive trends at work and exciting opportunities for those who are entering the workforce. This series presents young adults with facts about the new careers for the 21st century that they should be focused on now."
New Careers for the 21st Century provides evidence that workers in expanding green industries, those who have computer skills, and those with the talent and enthusiasm to build a global world will find growing opportunities in a variety of fields. Along with this factual information based on the latest job research, the books also offer tips for matching specific jobs to the reader's individual personality and interests, as well as inspiration for achieving meaning in the working world.
The editorial consultant for this series, Michael Puglisi, is the District Director of the International Association of Workforce Professionals (IAWP), New York Chapter, a nonprofit educational association exclusively dedicated to workforce professionals with a rich tradition and history of contributions to workforce excellence. He is currently the Manager at the Department of Labor's Workforce New York One Stop Center in Binghamton, New York.
"Green world, green economy, green technology—they all say the same things: the way we do business today is changing," said Puglisi. "Every industry will be shaped by the world's new focus on creating a sustainable lifestyle, one that won't deplete our natural and economic resources. The possibilities are unlimited for today's young adults. This series can act as the first step toward their continued education, training, and career path decisions helping them take the first steps that will lead them, and our planet, to a productive and sustainable future."
The titles in the New Careers for the 21st Century: Finding Your Role in the Global Renewal series are:
1. Careers in Green Energy: Fueling the World with Renewable Resources
2. Environmental Science & Protection: Keeping Our Planet Green
3. Freelance and Technical Writers: Words for Sale
4. Green Construction: Creating Energy-Efficient, Low-Impact Buildings
5. Media in the 21st Century: Artists, Animators, and Graphic Designers
6. Medical Technicians: Health-Care Support for the 21st Century
7. Modern Mechanics: Maintaining Tomorrow's Green Vehicles
8. The Pharmaceutical Industry: Better Medicine for the 21st Century
9. Physicians' Assistants & Nurses: New Opportunities in the 21st-Century Health System
10. Social Workers: Finding Solutions for Tomorrow's Society
11. Tomorrow's Enterprising Scientists: Computer Software Designers and Specialists
12. Tomorrow's Teachers: Urban Leadership, Empowering Students, & Improving Lives
13. Tomorrow's Transportation: Green Solutions for Air, Land, & Sea
14. 21st-Century Counselors: New Approaches to Mental Health & Substance Abuse
15. Therapy Jobs in Educational Settings: Speech, Physical, Occupational, & Audiology
For more information on the series and Mason Crest Publishers, call 866-MCP-BOOK or visit http://www.Masoncrest.com.
About Mason Crest Publishers: Mason Crest evolved in 2002 from some of the key people responsible for making Chelsea House Publishers one of the leading young adult and reference school and library publishers. Mason Crest is dedicated to providing the most unique upper elementary and young adult quality books available within the school and library marketplace. With each series Mason Crest obtains the most proficient & knowledgeable editors, advisors, senior consultants, major institutions, authors, agencies, and specialized "think tanks" to ensure the books meet the highest standards of excellence. Mason Crest is currently offering over 1,500 titles that reflect the company's dedication to quality. A complete list can be found online at http://www.masoncrest.com.
###