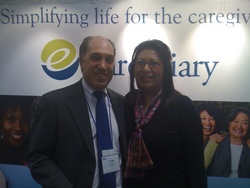 Our goal with this program is to add to the ways that caregivers can obtain information from eCareDiary
New York, NY (Vocus) November 19, 2010
eCareDiary.com, a website devoted to providing caregivers with Internet tools, information and support, is launching a new video show that will air live on Fridays at 2 p.m. EST via UStream and be downloadable for later viewing. The show debuts this Friday, November 19, with guest Gary Glazner, founder and Executive Director of the Alzheimer's Poetry Project, (APP) an international organization whose mission is to enhance the lives of individuals with dementia, their caregivers and professional healthcare workers.
Shows will feature 10-minute interviews with celebrities and experts on aging, long term care, caregiving, dementia and other illnesses associated with aging.
"Our goal with this program is to add to the ways that caregivers can obtain information from eCareDiary," observed the show's host, Susan Baida, who, with her husband, John Mills, founded the website . "We have been offering print and radio broadcast information on our site and this is the next logical progression to help caregivers stay informed and connected."
In addition to the informational interviews and news articles featured on eCareDiary, the site offers a wide range of free tools and resources including the Care Diary, a free online calendar to help manage care (including email alerts when prescriptions need to be filled), invaluable information sharing and a connection to the caregiver community. eCareDiary also provides listings of care providers (by state), products for sale designed to help caregivers and elderly patients and a cost calculator to determine realistic healthcare costs. The site includes blogs, podcasts, and videos with former family caregivers and experts in the aging and caregiving field, an enormous aid in keeping current and staying connected to other caregivers nation-wide. eCareDiary, was recently featured in AARP.org as one of the "11 Technologies You'll Want Now" and winner of Today's Caregiver Magazine's 2010 Caregiver Friendly Award.
eCareDiary.com's founders, the husband and wife team of Mills and Baida launched eCareDiary.com in 2009, blending their extensive backgrounds in health care and business, and as family caregivers. The website was born of their shared mission to help other families struggling to provide top-quality long term care for their loved ones. While caring for their aging relatives, John and Susan navigated the challenges and unexpected rewards that come with providing care at home. They may be contacted at 646-489-0425 or at sbaida(at)eCareDiary(dot)com.
# # #