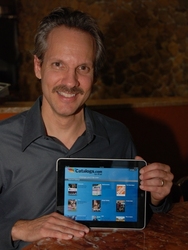 "We wanted to deliver an incredibly innovative approach to the world of catalogs," says Richard Linevsky, President and Co-Founder, Catalogs.com
Fort Lauderdale, FL (PRWEB) October 18, 2010
Premier shopping website Catalogs.com is extending its leading library of retail catalogs to the tablet device that is redefining the way we interact with content – the Apple iPad. The delivery of this intriguing and highly graphical shopping experience combines the page-flipping fun and product discovery of print catalogs with the ease of access and personality of the iPad – enabling customers to shop in a way they may never have thought possible. The new free application, Catalogs.com for iPad, is available for download immediately at catalogs.com/ipad or from the iTunes app store.
"With Catalogs.com for iPad, you'll be shopping like never before, flipping through pages of your favorite catalogs. It's like having a coffee table full of catalogs, all on your iPad, bringing you the world's best shopping experience wherever you go," said President and Co-Founder Richard Linevsky. "With the new Catalogs.com application for the iPad, you'll also find exclusive savings including free shipping, discounts and many other specials."
Today's intelligently designed mobile devices are enabling consumers to be more productive, have fun, and consume information while on the go. With customers enjoying increased access to high speed Internet, they are also expecting a full-fledged Web experience, wherever they are – and that includes browsing and shopping from top Web retailers. MacConnection, Home Depot, Petco, Little Tikes and Spiegel are just a sampling of the popular brands and specialty retailers debuting with Catalogs.com for iPad.
Retailers on Catalogs.com for iPad enjoy significant benefits – seeing their items showcased in front of leading technology connoisseurs and eager shoppers who have significant mobility, placing their product catalogs in the hands and laps of savvy customers everywhere. New brands are coming on board daily.
Catalogs.com for iPad brings the convenience of paper catalogs to the iPad, flipping a greener page by going paperless. The app allows users to turn pages with a fingertip – just like traditional catalogs, but makes it possible for shoppers to zoom in on products for details, tap to buy the product from the catalogs' online stores, or build a personal wish list from multiple catalogs all in one place.
From one application, shoppers can recreate the feeling of discovery and anticipation they feel when visiting a new store for the first time, or when the newest catalogs with the season's fashions, toys and latest products arrive in the mailbox. Shoppers can find themselves flipping and browsing through catalogs for electronics, clothing, home décor, pet supplies and many more must-have items, and, unlike print editions, users will always have the latest catalogs downloaded automatically – right to their iPad.
The unique interface and immersive experience of Catalogs.com for iPad features multiple innovations protected by its pending patents.
"We are especially excited about the release of Catalogs.com for iPad. We wanted to deliver an incredibly innovative approach to the world of catalogs, to allow the customer to touch their favorite products and bring the shopping experience home," said Linevsky. "We didn't just take our well-known web site offerings to the iPad, but rather developed the new Catalogs.com for iPad application from the ground up to give our customers something innovative and useful that they will truly love."
The Catalogs.com app is available for free at catalogs.com/ipad or from the iTunes store.
About Catalogs.com
Since 1996, shoppers have universally recognized Catalogs.com as a trusted and premier shopping service, attracting more than 950,000 unique visitors each month. The comprehensive website and newly launched Catalogs.com for iPad feature major and specialty retailers and provides shopping access via its popular web, iPad and mobile phone platforms.
###