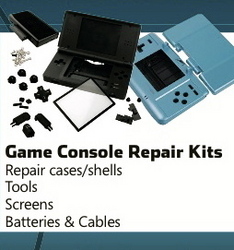 We have an alternative to the never-ending cycle of buy-discard-upgrade society
St Helier, Jersey Channel Islands, UK (PRWEB) February 11, 2010
Send-Away for Repairs? How about Order-In! One New E-Store Changes the Way Electronics Repair Happens.
Any gamer worth his salt has probably had his fair share of frustrating repair experiences. Sending away a gadget for weeks at a time, receiving inflated invoices for unrequested "necessary" repairs, and discovering that the Playstation, Kindle, or netbook has unexpectedly been lost somewhere between London and Beijing - all these instances are far from unfamiliar territory. But one company, Channel Goods, offers a new approach to the hassle and pain of gadget repairs. Instead of "sending-out" gadgets and electronics for repairs, Channel Goods encourages its customers to "send in" - for replacement parts, instruction manuals, and videos that help customers repair their own products for a fraction of the time and effort, and more importantly, for a fraction of the cost - providing everyone from a gaming pro to a gadget novice the opportunity to bypass the queues and inconveniences of traditional repair models.
Channel Goods' provenance extends not only to repairs, but also to upgrades. Offering a variety of "upgrade packages" that allow consumers to improve existing electronics through a series of modifications, Channel Goods provides an economical alternative to the neverending cycle of buy-discard-upgrade that seems necessary in this fast-paced technological environment.
Channel Goods also makes use of its prime Channel Islands location and cost savings advantages to offer electronics at a much lower price than its competitors elsewhere, delivered straight to its consumers' doorsteps. From Game Console repairs to upgrades to new equipment altogether, Channel Goods offers a low-cost, high-quality alternative to the outdated traditional model. For more on Channel Goods, visit http://www.channelgoods.co.uk. Channel Goods is also available for live support & feedback via Skype (username: channelgoods or +442032874800).
Watch for our new exciting line of Video Games releases coming soon.
###