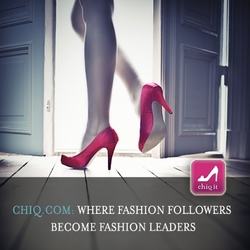 Our mission is to make it easy for style-conscious women to set trends, not just follow them
New York, NY (PRWEB) April 2, 2010
CHIQ.com's free-to-enter Trendsetter Contest is throwing down a challenge: "Think you know fashion? Prove it!" Contest participants are invited to upload 'hot' fashion finds and earn points when community members cast CHIQ-It votes for favorites.
Winners are determined by the number of CHIQ points their items receive.
Participation in the CHIQ Trendsetter Contest is limited to members of the fashion site's online community. However, like the contest, membership is free and registration takes just a few minutes. "At CHIQ, our mission is to make it easy for style-conscious women to set trends, not just follow them," explains site co-founder Christina Hall.
Members, Not Advertisers Define What's CHIQ
CHIQ is the Internet's first social shopping site where users can not only see and shop for what's hot in fashion; they also have a voice in shaping the marketplace. Community members upload fashion items they think are winners and give their feedback with the CHIQ-It voting button.
Items are then ranked by the number of votes they receive.
"Ours is a community of style-savvy 'experts' who share their views for fun, rather than profit," reports Hall. But sharing does have its rewards. With the Trendsetter Contest, points become prizes for the top three vote-getters, while recognition is the reward for the top 20 contest participants whose pictures will be displayed in an on-site gallery.
A Common Thread
Hall is a self-described technophile and fashion enthusiast at heart. "What makes our site especially valuable for fashionistas is that members can communicate with one another to learn about emerging designers, 'hidden' shopping opportunities, and leading edge style trends," she says.
This is especially meaningful to today's image-conscious consumers who are "twice as likely to be influenced by peers and base their buying choices based on what other people are saying, rather than what advertisers are selling," she adds.
Hall's enthusiasm for technology and her web savvy are evident in CHIQ's seamless functionality. The site features a solid design framework with a streamlined user interface and custom-coded platform. "Everything is easy," says Hall with pride. "From searching by designer, brand, or label to posting comments and uploading photos."
Additional user-friendly features include adjustable speed browsing, widgets that make sharing with other social media sites simple, plus a variety of ways for community members to interact and influence one another.
Opportunity for Designers to Be Seen and Worn
CHIQ's power to influence presents an unparalleled opportunity for emerging and established designers to bring their work directly to an enthusiastic and critical audience. "Chiq.com is an outstanding vehicle for designers who are building brand awareness or seeking to test the popularity of individual items within a social user base."
She invites designers to use the CHIQ button feature to boost web traffic. "Of course our buttons are as fashionable as our designers," Hall observes. "Web masters and designers can select from a group of stylish buttons and then easily copy and paste the code into their HTML editors."
"At CHIQ, our fashion-forward community is plugged in and up-to-date. They're uniquely positioned to decide themselves what's hot and what's not, rather than rely on potentially out-of-date fashion news from a search engine" Hall reports. "We believe our unique approach to providing an engaging new way to look at fashion and make it your own makes CHIQ an indispensable resource for fashionistas and designers alike."
To learn more about CHIQ.com, become a community member, and/or enter CHIQ's Trendsetter Contest, you may visit http://www.chiq.com. For media inquiries and advertiser information, please contact Christina Hall by email at christina@chiq.com or by phone at (917) 723-2048
About CHIQ
CHIQ.com is an online community that encourages women who follow style to become leaders. It is an indispensable resource for fashion dissemination and the Internet's only open platform social networking site devoted exclusively to fashion information and online sales. Community members upload photos of their favorite clothing, shoes, and accessories and are awarded points from other members who cast CHIQ-It votes for the items they consider 'hot.' The CHIQ Trendsetter Contest turns points into rewards and recognition with prizes for top point-scorers.
Contact:
Christina Hall
CHIQ
Christina(at)Chiq(dot)com
(917) 723-2048
http://www.chiq.com
###