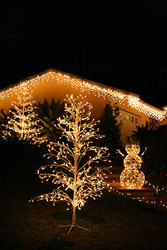 Christmas Lighting has dramatically improved for 2010
(PRWEB) August 31, 2010
Christmas decoration leader Rudolph's Warehouse is adding a new range of products for the 2010 holiday season, including neon lights , LED Christmas lights, illuminated cherry trees, animated pieces, lighting nets and connectable pieces. The new range of LED lights includes 1,000-bulb string sets. Other newly available items include festive season signs, window decals and animated motifs.
There is something about lighting up the home that not only warms your heart, but brings the community together. People are looking for a little cheer. When purchasing Christmas lights , always consider their quality. Cheap lights are often cheap for a reason. Inferior materials are often used in order to reduce the purchase price of such lights. In order to create an award winning display, consider the following points:
1. Invest in LED lights sets, because they are brighter and last longer
2. Frame the features of your home with Rope light: for example Gables
3. Select a high visible position central to your home for a feature piece
4. Create areas of interest using a common theme: Santa – North Pole – Santa's Friends
For those thinking about stringing-up a few lights this season, please consider the following "Safety Precautions":
1. Always ensure any lights used on the exterior of the home are approved for outdoor use.
2. Turn off the Christmas lights when going out or going to bed.
3. Water proof all outdoor connections
4. Don't pass electrical leads or lights through door ways and windows
5. If you need to use power boards, ensure they have built-in safety switch
6. Do not attempt to be a "home electrician" – always use an electrical contractor
This season LED Christmas lights are quickly replacing the old Fairy Lights. The benefits of using LED Christmas lights are considerable.
1. They are energy efficient
2. Cool to the touch
3. Brighter than fairy lights, therefore delivering a better display
4. More durable, as they do not contain a filament that can be easily broken
However, Fairy Lights do have their place, lighting internal spaces and Christmas trees.
Rudolph's Warehouse is located on: in the HomeMaker Centre in Murrary Road, Preston (around the back). The street address is 10 Gower Street, Preston.
For more information about Rudolph's Warehouse or its new selection of neon lights, animated motifs, LED Christmas lights and more, visit http://www.rudolphs.com.au/.
# # #