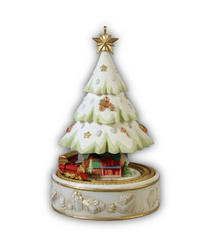 100 Years of Helping You Say It All
KANSAS CITY, MO (Vocus) July 7, 2010
There are many ways to mark an event as big as a centennial. At Hallmark, one tiny Christmas ornament says it all.
The Hallmark Keepsake Ornament, named "100 Years of Helping You Say It All," arrives in stores July 10, in conjunction with the annual Hallmark Keepsake Ornament Premiere, an event that gives consumers get their first chance to purchase ornaments in the 2010 line.
The 4 5/8-inch-tall, light-up Christmas tree ornament packs 100 years of Hallmark history in its design. The tree itself depicts popular ornaments from nearly four decades of the Hallmark Keepsake Ornament line, while the base it sits on tells the story of Hallmark. For example, a moveable train and train station under the tree represent Hallmark Founder J.C. Hall's arrival in Kansas City by train in January 1910, while buildings under the tree represent the well-loved Nostalgic Houses and Shops Keepsake Ornament series, now in its 27th year.
"It was an honor to be asked to work on this ornament," says Don Palmiter, one of the Keepsake sculptors who contributed to the design. Palmiter himself has a long history with the company with 43 years of service … and still counting. "A lot of thought went into its design, and we hope it will help people see all the ways Hallmark has helped their families say it all for the last 100 years."
The 2010 Hallmark Keepsake Ornament line includes more than 280 ornaments, about 170 of which will be in stores for the Keepsake Ornament Premiere event, July 10-11. Collectors eagerly anticipate the annual Christmas-in-July event, which this year also debuts five new series, dozens of favorite characters and licensed designs, ornaments that can be personalized with names or by recording a voice, and a heavy helping of magical ornaments that light up, move and/or have sound. More than 3,000 Hallmark Gold Crown stores nationwide host the event.
###