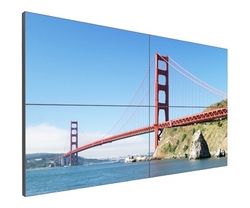 Beaverton, OR (PRWEB) June 8, 2010
At InfoComm 2010, Planar Systems, Inc. (NASDAQ:PLNR), is unveiling the family of products and technologies which further establish the Clarity™ Matrix LCD Video Wall System as an industry-leading solution for new video wall applications in digital signage, control room, and corporate environments. Together, these products and technologies set a new standard for LCD video wall performance, functionality, and ease of installation and service. They are being shown in Planar's Infocomm booth, #C5658.
"In the Clarity Matrix LCD Video Wall System, Planar has applied its pioneering knowledge of video walls and architechted a highly-unique solution to meet the demanding requirements of large, megapixel video walls in public venues and control rooms," said Jennifer Davis, vice president of marketing for Planar Systems. "Visitors to our booth at InfoComm this year will see the unique design that has contributed to the appeal of the Clarity Matrix family, whose products and technologies set it apart from other video wall solutions on the market today."
The New Energy-Saving LCD Video Wall: Clarity Matrix LX
Every business and organization today is focused on controlling and reducing unnecessary costs. Planar has responded by introducing the Clarity Matrix LX. The Clarity Matrix LX model is engineered to consume 17% less power than the standard Clarity Matrix MX model when operating at full brightness and is designed for corporate and control room environments with relatively low ambient light conditions.
While Clarity Matrix LX operates at a lower power level, the system incorporates the capabilities and characteristics that differentiate the Clarity Matrix video wall family, including the thinnest installation profile (only 4.5 inches including the mount), narrow image-to-image gap (only 7.3mm), front serviceability, superior image alignment, redundant power supplies, and the quietest video wall available in the industry - the video wall itself has no fans. The unprecedented ease of installation and serviceability with rack-mounted electronics, built-in video processing, and monitoring capability truly sets the Clarity Matrix family apart.
New ERO™ Technology and Increased Bandwidth Options
Recognizing the demands of the public venue and digital signage markets, Planar is demonstrating Clarity Matrix with ERO™ (Extended Ruggedness and Optics™), incorporating a proprietary glass bonding technology designed to add durability and better image contrast in brightly-lit environments. This ERO technology adds ruggedness to the video wall, ideal for public venue applications including retail stores, malls, museums, public transit spaces, and many other demanding environments that require durability. It is also easily integrated with touch screen sensors to create a large touch screen video wall. The ERO option also minimizes reflection that can result from high ambient light conditions in these environments, thus improving contrast by over 300% and giving viewers the highest-quality visual experience.
Planar will also be demonstrating dual link input capabilities that are available with the Clarity Matrix family. The only LCD video wall display with this capability, Clarity Matrix allows for ultra-high resolution inputs - a capability that is especially important in security, surveillance and IP video applications. For example, in a three-by-three (3x3) Clarity Matrix video wall, the dual link feature allows the video wall to input and display double the resolution of a standard monitor and display nearly 10 megapixels of content. Customers further benefit from this feature by reducing the quantity and associated costs of graphic outputs required to drive the video wall.
Installation and Serviceability Enhancements
The benefits created by Clarity Matrix's unique architecture are significant when it comes to installation and servicing of the video wall; starting with its off-board components. The design enables controllers and power supplies to be rack-mounted, located away from the video wall for easy access. No power outlets are required behind the video wall, which reduces installation costs. The design reduces heat build-up that could introduce LCD panel failures and, potentially, cripple a video wall – also a key factor in Clarity Matrix's ability to deliver 24x7x365 operation. Planar integrators have estimated that the time it takes to install a Clarity Matrix video wall can be 50% less than the time required to install a video wall of monitors in an adjacent array.
Now also, Clarity Matrix supports a cable run of up to 500 feet – more than 5 times the previous maximum length. This provides installers and integrators even greater flexibility in placing Clarity Matrix's remote components in a rack or server room, and contributes to extensive savings in installation costs.
As it evolves, Clarity Matrix retains other key features. Among these is the EasyAxis™ Mounting System. It allows for total alignment control and service access to panels in both landscape and portrait orientation—any LCD panel pulls out and up, thereby providing access to the LCD panel below it, precluding the need to remove any panel for maintenance or service to another. In addition, the EasyAxis Mounting System makes mounting Clarity Matrix close to any surface possible, contributing to the video wall's industry-leading 4.5" depth. This eliminates the need to recess it into a wall or casement, and facilitates its use in aisle ways and other space-constrained environments—here again, the potential for significant cost savings related to site preparation and construction.
The Clarity Matrix LCD Video Wall System family is being unveiled at InfoComm 2010, in Planar Systems' booth, #C5658. Clarity Matrix is available for purchase through Planar's worldwide network of authorized digital signage and control room resellers. For more information, please visit http://www.planarcontrolroom.com or http://www.planardigitalsignage.com.
About Planar
Planar Systems, Inc. (NASDAQ:PLNR) is a global leader of specialty display technology providing hardware and software solutions for the world's most demanding environments. Hospitals, space and military programs, utility and transportation hubs, shopping centers, banks, government agencies, businesses, and home theater enthusiasts all depend on Planar to provide superior performance when image experience is of the highest importance. Founded in 1983, Planar is headquartered in Oregon, USA, with offices, manufacturing partners, and customers worldwide. For more information, visit http://www.planar.com.
SOURCE: Planar Systems, Inc.
MEDIA CONTACTS:
Planar Systems, Inc.
Kim Brown, 503-748-6724
videowallPR@planar.com
or
INVESTOR CONTACT:
Planar Systems, Inc.
Ryan Gray, 503-748-8911
Ryan(dot)Gray(at)Planar(dot)com
# # #