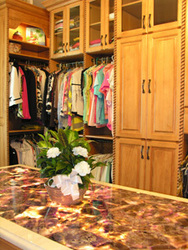 While there is no such thing as too much storage space, the real key to a great closet is the use of space, no matter the size
Saint Louis, MO (Vocus) September 22, 2010
St. Louis custom closet designer Sarah Woodrick believes that everything should have its place. And she creates spaces that are designed to make life easier by organizing the little details in a home. As a result of Sarah's meticulous attention to detail and her ability to create innovative organized spaces, Ladue News recently awarded Sarah Woodrick of Beyond Storage with the first place, organized spaces award in their 2010 Design Contest.
"While there is no such thing as too much storage space, the real key to a great closet is the use of space, no matter the size," said Sarah Woodrick, custom closet specialist at Beyond Storage. "An organized small closet can be much more effective than a large unorganized space. I always have been an organized person and I got into this industry because my friends would ask me to come help them create more organized spaces in their homes. I am extremely excited that I have made the journey from my own closet to designing award winning custom closets."
The award winning closet was a new area in an addition to an existing home. The client wanted a closet that would also serve as a dressing room. The client also desired an area that showcased an extensive collection of designer crystal handbags and jewelry. Woodrick created a space that combined warm elements that also kept the room light and bright. She choose maple woodwork with a warm but pale caramel color stain and incorporated lighting, glass and mirror accents throughout the space in order to highlight items.
From an organizational standpoint, Woodrick blended functional items into the design without diminishing the sense of warmth and class within the space. She incorporated abundant shelving and hanging space in open and closed cabinetry. These spaces were punctuated with accessories such as drop down hampers, sliding belt racks and valet rods in order to accommodate all of the items that needed to be stored in the space.
"A closet doesn't have to be sterile to be organized. I tried to make this space as warm and inviting as possible. From the quartz topped island, which was under lit to create a glow in the space, to the display areas that were carefully designed to highlight the crystal purse collection, this closet is now so much more than storage. It is a place where my client could go to relax and put all of her favorite things," said Woodrick.
Beyond Storage would like to recognize Woodrick for her innovative designs that help clients become more organized. For more information about this St. Louis closet company, please visit http://www.beyondstoragestl.com.
About Beyond Storage
Beyond Storage, a space improvement company began operations in 1985 as St. Louis' first custom closet franchise. In 2005, the company adopted its current name to reflect the expanded scope of its business. Beyond Storage has designed more than 50,000 systems including closets, garages, pantries, entertainment centers, kids' rooms, laundry rooms, mud rooms, home and commercial offices, and more. Beyond Storage operates a state of the art wood fabrication and lamination facility, where it manufactures each system to custom specifications. Learn more about Beyond Storage at http://www.beyondstoragestl.com.
###