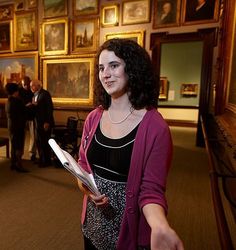 Drexel's Co-op program was the deciding factor for me
Sacramento, Calif. (Vocus) March 12, 2010
Drexel University, a Philadelphia-based university that launched a Center for Graduate Studies in Sacramento in 2009, is now looking to expand its innovative co-operative education program in Northern California.
In Drexel's co-operative education program, undergraduate students get work experience during three, six-month paid internships as part of their undergraduate studies. This is widely regarded as one of the very best such programs in the world.
"As we continue to build Drexel's relationships in Northern California, we are excited to expand our co-operative education program to businesses, government agencies and non-profit organizations," said Peter J. Franks, Executive Director & Associate Vice Provost at Drexel's Steinbright Career Development Center. Mr. Franks recently returned from presenting keynote remarks at the international meeting of the World Association for Cooperative Education in Hong Kong.
Mr. Franks this week is meeting with business and civic leaders in the Greater Sacramento area to explain the unique co-operative education offered by Drexel and the benefits available to businesses. These opportunities are particularly important to the students from the Sacramento region who are currently undergraduate students at Drexel's home campus in Philadelphia and interested in returning to their home area for their work experiences.
Providing a "practical education" was the charge given to the university by its founder, Anthony J. Drexel in 1891. Drexel University adopted co-operative education as a core feature of its curriculum in 1919. Since then, Drexel Co-op has been one of the University's defining characteristics. Today Drexel operates one the nation's oldest, largest, and most respected cooperative education programs. Through the University's extensive network, Drexel students have the opportunity to work for more than 1,500 companies in 28 states and 25 international locations.
Each year, more than 9,500 Drexel students are enrolled in co-op programs and the Steinbright Career Development Center effectively manages more than 4,400 student placements into co-operative education work experiences.
Anna Sparrevohn, a Drexel sophomore from Davis, Calif., was intrigued by Drexel's co-op program two years ago when contemplating her college options as a high school senior. She chose Drexel and is currently concluding her first co-op experience very close to home at Crocker Art Museum in Sacramento.
Sparrevohn has worked 20 hours a week in the Crocker Museum's marketing department since last July.
"Drexel's Co-op program was the deciding factor for me," said Sparrevohn, a business major who returns to Drexel's Philadelphia campus later this month to begin the spring quarter. "I was worried about going to college, picking a major and not knowing what I want to do after graduation. I've had a great experience at the Crocker Art Museum and now, through the Co-op Experience, I know a Business degree with an emphasis on marketing will be a great path for me."
With the three, six-month co-op experiences, the undergraduate program at Drexel runs five years, rather than the more traditional four years.
"With our co-operative education program, students graduate with real experience in the workforce and employers get talented students whom they can consider for employment upon their graduation," Mr. Franks said.
Founded in 1891 in Philadelphia, Drexel has earned a reputation for being on the cutting edge of higher education, and is ranked fourth most innovative university in the country by U.S.News & World Report.
It now offers eight graduate programs at its Center for Graduate Studies at One Capitol Mall in Sacramento. Those programs are designed for working professionals, offered part-time in the evenings or weekends, and focused at the heart of Greater Sacramento's growth and economic development initiatives – entrepreneurial business, human resources, education, knowledge management and information science.
For more information on Drexel and its co-operative education program, please visit http://www.drexel.edu.
###