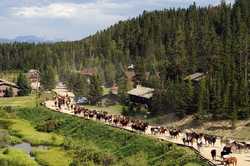 Granby, Colo. (Vocus) April 14, 2010
There's a cowboy or cowgirl in just about everyone. If the call of the American West has you thinking about dusting off that cowboy hat, pulling on the boots and saddling up, a dude ranch vacation just might be the summer trip for you. Embracing your inner cowboy/cowgirl has never been easier.
Today's dude ranches have come a long way from the "City Slickers" era. While it's still possible to visit a working ranch and participate in cattle drives, modern dude ranches include luxury resorts and honeymoon suite lodging. They accommodate all kinds of people and groups: solo travelers, couples, young families and seniors. You'll find adults-only weeks, girlfriend getaways, family reunion destinations, and plenty of spring and fall discounts.
Whatever your authentic taste of the West calls for, here's what to expect from a dude ranch vacation – and why the ranches are becoming increasingly popular vacation destinations in the 21st century.
1. No car needed: Once you arrive at a dude ranch, everything you need and will do is located right there. No worries about teens driving or kids taking off for friends' homes: The only travel is by horse, bike or foot.
2. Variety: Boredom is banished on a dude ranch. Guests can choose as many or as few activities as they like each day – most of which are outdoors and/or are activity based. Families with kids (or parents!) who like to try their hand at one activity and then move on after five minutes will find an ideal situation – no extra cost, hassle or lack of choice. Typical activities include swimming, river rafting, horseback riding, mountain biking, hiking, cattle work, fly fishing, western dancing, archery, riflery and cowboy skills. Many dude ranches are located near golf courses and shopping.
3. Independence: Most ranches offer children's and teens' programs. Kids can pursue their own activities without mom and dad, yet in safe, supervised environments.
4. Disconnected: Accommodations vary from luxury to rustic, but all feature characteristics of the old west. While some offer wireless accessibility, many don't – and the ones that do may make it an effort, such as by offering it in a common room instead of every cabin. In addition, most individual rooms are without phones, computers or TVs. As a result, dude ranches are popular with execs looking to get away and with families looking to focus on activities – vs. electronics – with their kids.
5. All-inclusive: Food, beverages, all activities (and, often, gratuities) are included in one cost. That means no hidden costs or surprises. A dude ranch vacation also means significant time savings in the planning phase. Instead of intricate planning for lodging, car rental, meals, attractions and activities for each family member, there is one phone call. The result: less stress and more time devoted to pure vacation.
The Dude and Guest Ranches of Grand County, Colo. (http://www.dude-ranch.com) include five all-inclusive dude ranches nestled in the heart of the Colorado Rockies, located 100 miles west of Denver. The ranches offer family and group pricing, and early- and late-season specials.
Contact: Gaylene Ore, Ore Communications, gaylene(at)orecommunications(dot)com, 970-887-2536
###