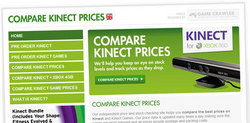 "Compare Kinect Prices" helps find the cheapest prices on Kinect hardware and games.
(PRWEB) September 1, 2010
Compare Kinect Prices allows you to compare kinect prices against more than 25 leading retailers to find the cheapest prices on Kinect hardware and games.
Comparekinectprices.com lists prices for the Kinect sensor with data being updated many times a day, giving a great view of stock availability and ultimately the cheapest place to buy the device. As pricing details are confirmed via merchants, more price variations will be added to our index automatically.
For the launch of Kinect on November 10th Comparekinectprices.com will be providing information on the best places to pre order Kinect. Comparekinectprices.com will also be running a competition in association with Zavvi, to give away a Kinect sensor and Kinect Adventures to one lucky winner.
Carl Warrent, creator of Compare Kinect Prices explains, "The site has been developed from the success we had with Game Crawler which lets you compare game prices. Game Crawler was a massive success and much loved within the gaming community so we've expanded things with a dedicated site to compare Kinect prices."
For more information on Compare Kinect Prices please contact Carl Warrent on 020 8144 0144.
About Comparekinectprices.com

Compare the cheapest Kinect prices in seconds
Save 30% on Kinect game prices.
Win a Kinect sensor.
Searching over 25 brands to find the cheapest price
Searching brands such as Amazon, Play.com, HMV
# # #