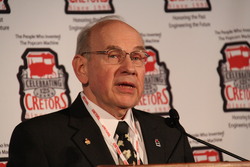 "We invented the business of popping corn,"
Chicago, Illinois (PRWEB) March 18, 2010
C. Cretors and Company, the leading designer and manufacturer of food processing and concession equipment, is planning a gala celebration of its 125th anniversary in business as a Chicago owned and run company. The event will be held on May 20, 2010 at the Museum of Science & Industry. The celebration honors the company's heritage, including the invention of the world's first commercial popcorn machine, the foundation of the family run company's success.
As a leader in the U.S. concession business, the company proudly states, "We invented the business of popping corn," referring to founder Charles Cretors' unveiling the world's first commercial popcorn machine at the Columbian World Exposition held in Chicago in 1893. Cretors continues to thrive and is now run by the 5th generation of the Cretors family.
"Soon after the Chicago fire, my great-grandfather had a brainstorm about building a machine that would pop corn in oil," says Charles Cretors, the company's CEO. "Until then, street vendors were popping corn over an open fire and putting oil on afterwards, so some had too much and some none at all. My great grandfather's idea was to build a safer steam-driven machine that would automatically spread the delicious butter/oil seasoning on the corn during the popping. Putting his thoughts into action, he built the first popcorn wagon and displayed it at the World's Columbian Exposition of 1893, also known as the Chicago World's Fair."
The company's fortunes rose based on that simple idea, which allowed vendors to go to where crowds are. Whether gathered in front of theatres, the ballpark, or at fairgrounds, Cretors wagons pulled up, cranking furiously to product the irresistible treat, along with roast nuts, drinks and more.
Surviving through two world wars and the Great Depression and even a stint providing machine parts for the U.S. military in World War II, Cretors attributes the company's longevity to its adaptability. "Our ability to adapt and change to meet the market is what keeps us strong even in a poor economy," says Cretors. "We went from a stationary cart, to a horse driven one, and then a motorized wagon. With the growth of the movie industry, our machines grew smaller again to fit into a concession stand in a movie theater."
To learn more about Cretors' rich 125-year history, watch the vodcast featuring Charlie Cretors on the C. Cretor's YouTube channel at http://www.youtube.com/user/CCretorsCompany .
About C. Cretors and Company
Established in 1885, C. Cretors and Company is a leading designer and manufacturer of food processing and concession equipment providing a complete range of innovative food service solutions to companies around the world. Cretors is proud to be celebrating their 125 successful years in business and will be hosting a formal gala on May 20th, 2010 at the Museum of Science and Industry. Cretors is a renowned industry innovator, who in 1893 introduced the first patented steam driven popcorn machine that popped corn in oil. In 1967, Cretors' Food Processing Division introduced a continuous production line featuring a hot air fluidized bed oven for high-volume popcorn production, ranging from 80 to 5,000 lbs. per hour.
Over the company's long and storied history, its Foodservice Division offerings have expanded to include machines that produce and/or dispense cotton candy, nachos, snow cones, caramel corn, and hot dogs, topping and dispensing equipment as well as warming and display cabinets. Today, Cretors' operation with over 70 employees continues to reinvest in research and development to ensure constant improvements in everything from equipment manufacturing to customer responsiveness to distributor network communications. For more information about Cretors' services and products, please visit http://www.cretors.com.
###