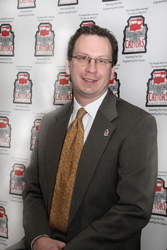 "The hand pulled popcorn wagons introduced by my great great great grandfather, Charles Cretors, marked the beginning of the billion dollar modern day concession industry."
Chicago, IL (PRWEB) April 9, 2010
C. Cretors and Company, the leading designer and manufacturer of food processing and concession equipment, is planning a gala celebration of its 125th anniversary in business as a Chicago Company. The event will be held on May 20, 2010 at the Museum of Science & Industry. The celebration recognizes and celebrates the company founder and succeeding Cretors family generations, its vendors and business partners, as well as celebrities with Chicago ties—all of whom have helped to keep the concession industry alive and thriving.
Company president Andrew Cretors says the gala event celebrates Chicago history and his company's role in the birth of the modern billion dollar concession industry. "The hand pulled popcorn wagons introduced by my great great great grandfather, Charles Cretors, marked the beginning of the billion dollar modern day concession industry." He added, "They are the business model for today's concession stands, which are found today in every conceivable venue, from Little League games to the largest Super Bowl stadium, and from department stores to carnival midways."
Cretors has led the concession industry in introducing innovations to the expanding entertainment industry over the last 60 years, including continuous flow high volume industrial machines producing up to 5,000 pounds of popcorn per hour. Other innovations include thermostatically controlled popcorn kettles, automatic pumps, internal heating systems, and automated popcorn machines.
According to Andrew Cretors, the company's products are known all over the world. About 40 percent of Cretors' machinery is shipped outside of the United States, and this diversity has helped the Chicago Company weather the current financial crisis. "Today's movie theater depends on its concession stand for a significant portion of its profits, and our equipment is an important factor in the economic success of this industry."
To learn more about Cretors' rich 125-year history, watch the vodcast featuring Andrew Cretors on the C. Cretor's YouTube channel at http://www.youtube.com/user/CCretorsCompany
About C. Cretors and Company
Established in 1885, C. Cretors and Company is a leading designer and manufacturer of food processing and concession equipment providing a complete range of innovative food service solutions to companies around the world. Cretors is proud to be celebrating their 125 successful years in business and will be hosting a formal gala on May 20th, 2010 at the Museum of Science and Industry. Cretors is a renowned industry innovator, who in 1893 introduced the first patented steam driven popcorn machine that popped corn in oil. In 1967, Cretors' Food Processing Division introduced a continuous production line featuring a hot air fluidized bed oven for high-volume popcorn production, ranging from 80 to 5,000 lbs. per hour.
Over the company's long and storied history, its Foodservice Division offerings have expanded to include machines that produce and/or dispense cotton candy, nachos, snow cones, caramel corn, and hot dogs, topping and dispensing equipment as well as warming and display cabinets. Today, Cretors' operation with over 70 employees continues to reinvest in research and development to ensure constant improvements in everything from equipment manufacturing to customer responsiveness to distributor network communications. For more information about Cretors' services and products, please visit http://www.cretors.com.
# # #