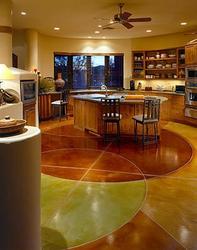 Calimesa, CA (Vocus) May 28, 2010
Not all concrete floors are alike. Different interior settings require different concrete applications. ConcreteNetwork.com offers a new guide on concrete flooring options for specific types of interior floors. Consumers can explore the options and benefits available for kitchen, bathroom, retail and restaurant floors.
Adaptability and durability make concrete an excellent material for interior floors. Today's innovations in concrete applications and products allow different types of concrete floors to perform optimally in their own settings.
Lower traffic areas, like kitchen and bathroom floors can benefit the most from concrete's decorative applications. These floors require little maintenance, can reduce allergens and can be customized with colors and designs to match any interior décor.
Concrete flooring in higher traffic areas, like retail and restaurant floors, can also benefit from concrete options. From available slip-resistant textures, easy-to-clean surfaces and customizable industrial coatings, commercial floors benefit greatly from concrete options.
For the complete guide to concrete design ideas by floor types, visit ConcreteNetwork.com.
Established in 1999, The Concrete Network's purpose is to educate consumers, builders, and contractors on popular decorative techniques and applications. These include stamped concrete, stained concrete floors, concrete countertops, polished concrete, and much more. Over 11 million people visited ConcreteNetwork.com in 2009 to research, get ideas and to find a contractor.
The site excels at connecting buyers with local contractors in their area through its Find a Concrete Contractor service. The service provides visitors with a list of decorative concrete contractors throughout the U.S. and Canada, and is fully searchable by more than 20 types of decorative concrete work in over 200 regional areas throughout North America.
Article photo courtesy of Progressive Concrete Works Inc in Phoenix, AZ. Attached photo courtesy of Engrave-A-Crete in Mansfield, MO.
# # #