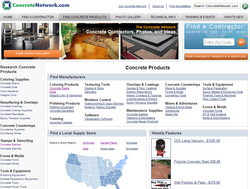 Calimesa, CA (Vocus) February 26, 2010
For contractors, the wide array of concrete products available in today's market can be hard to sort through. For this reason, ConcreteNetwork.com has created a section dedicated to organizing product information so that it can be easily researched by contractors. Giving them A to Z information on 27 different products, contractors can research product types, buying tips, comparison charts, reviews, how-to information and more.
Separated into eight product categories, contractors are given the opportunity to research and learn about the product they intend to buy, and other similar products, before they do so. Product categories include: coloring supplies, resurfacing and overlays, concrete countertops, stamps and stenciling, forms and molds, tools and equipment, protection and maintenance, and concrete mixes.
Once a contractor chooses a product category, The Concrete Network provides extensive articles and guides outlining various products available within the category, some advantages and limitations, product reviews, tips on how to use and install products and so much more.
To view a full list of concrete products visit ConcreteNetwork.com.
Furthermore, for those decided on a specific product, the site offers a nationwide directory of manufacturers, suppliers and local stores to aid in the purchase.
Established in 1999, The Concrete Network's purpose is to educate consumers, builders, and contractors on popular decorative concrete techniques, applications, and products. This includes concrete stains, equipment, sealers, tools, and materials. Over 11 million people visited ConcreteNetwork.com in 2009 to research, get ideas and to find a contractor.
The site excels at connecting contractors with concrete products suppliers through its Concrete Product Directory Concrete Products service. The service provides visitors with a list of decorative concrete manufacturers throughout the U.S. and Canada, as well as local decorative concrete supply stores.
# # #