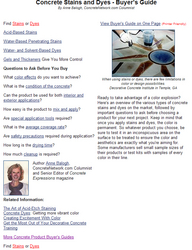 Calimesa, CA (Vocus) March 25, 2010
With the start of the spring concrete season and the increase in concrete jobs, it's a great time for contractors to reexamine the products they use. ConcreteNetwork.com offers 15 free, printable buying guides to aid contractors in sorting through the numerous concrete products available in today's market. Guides cover specifics on product types, their uses, project checklists and much more.
Understanding the nuances and knowing which concrete products work best under certain conditions should be the key factor guiding every purchase. Each guide is designed to help contractors choose the right product for a specific concrete project by comparing products within a category, offering advice on what to look for in a product, offering tips on how to properly use the products and more.
Some of the products featured in these free guides cover the following popular products: countertop mixes, stains and dyes, stamps and skins, concrete overlays, sealers, polishing supplies, finishing tools, equipment and more. To view a full list of concrete product guides visit ConcreteNetwork.com.
Furthermore, for those decided on a specific product, the site offers a nationwide directory of manufacturers, suppliers and local stores to aid in the purchase.
Established in 1999, The Concrete Network's purpose is to educate consumers, builders, and contractors on popular decorative concrete techniques, applications, and products. This includes concrete stains, equipment, sealers, tools, and materials. Over 11 million people visited ConcreteNetwork.com in 2009 to research, get ideas and to find a contractor.
The site excels at connecting contractors with concrete products suppliers through its Concrete Product Directory Concrete Products service. The service provides visitors with a list of decorative concrete manufacturers throughout the U.S. and Canada, as well as local decorative concrete supply stores.
###