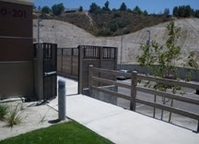 Los Angeles, CA (Vocus) February 23, 2010
Artisan Precast, a leader in providing precast fencing systems, completed installation of barrier fencing at the Canyon Country Education Center near Santa Clarita, California.
One of the unique features of its precast concrete fence system is its versatility to be installed quickly and efficiently across any terrain. The fencing recently erected at the university which sits on 70 acres in Santa Clarita's Mint Canyon, provides a good example; the site topography is highly sloped at a steep grade that posed challenges for Artisan's installation team. However, the unmatched flexibility of the product allowed crews to surmount those difficulties and meet the job's demands on schedule.
Artisan worked with Joe Souza of Lundgren Management on the Canyon Country project, which was designed to maximize the canyon's natural open spaces. The solution chosen for the Education Center integrated precast concrete barriers with structures already in place—illustrating one of the trademark capabilities of Artisan's work. The precast fencing panels are easily constructed at various heights up to 20', and can form corners and fit next to existing buildings in the landscape, creating a strikingly attractive line.
WoodCrete® 2-Rail, the company's maintenance-free alternative to split-rail wood fencing, formed the basis for the Canyon Country job; 1,864 LF of 3' high 2-Rail was used. In addition, the system integrated 336 LF of 4' WoodCrete® 3-Rail and 90 LF of 6' regular WoodCrete®. All these products resemble the pattern and texture of wood grain, with mitered fenceposts for the appearance of custom crafting; yet the precast concrete cannot warp, sag, rot, or be destroyed by termites, and the integral color in the mix eliminates any need for repainting.
Artisan Precast also manufactures its products to fulfill the environmentally-conscious goals many government bodies, contractors, and individuals are now setting for the future. Artisan began revamping its mix designs to include more recycled cementitious material in 2008. To learn how a precast concrete solution will work for your job, go to http://www.artisanprecast.com.
###