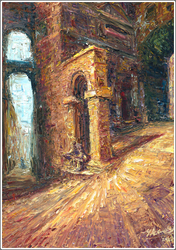 Traditional galleries are useful but the art world is a funny place where it's not always as easy to express ones-self as individually as one might expect
(Vocus) October 6, 2010
Marcus Krackowizer, the British contemporary impressionist painter has launched a new personal online gallery in a bold move to focus on web sales. Following his highest online revenues to date achieved in 2009, which overtook traditional gallery sales for the 1st time, this shift in focus to online sales may not come as a complete surprise. "Traditional galleries are useful but the art world is a funny place where it's not always as easy to express ones-self as individually as one might expect". For this reason and the financial implications of transporting large paintings around the world, this direction will be watched closely by other successful professional artists wishing to reduce their overheads.
The new site differs from most offering;

A clear branding and identity.
A fine balance between the artwork display and ease of purchase.
Focused exhibits with only Marcus' latest 30 paintings displayed, providing a fresh display and an easy browsing experience.
A zoom option as well as a full screen view with the artists comments easily readable at all times providing context and personality.
An impulse shopping option with completion possible within 3 clicks of viewing the piece.
The site's novel use of zooming allows for fast loading pages while providing the resolution necessary to view the paintings up close. "It's about displaying the art clearly while allowing buyers to put their nose up close to the canvas", Marcus explained during his launch. An important aspect is capturing a faithful representation of the image so there are no surprises when the client receives their artwork. No problems says Marcus, extremely high resolution images are required for the limited edition prints, so presenting these on the website is only limited by download time. However, Marcus explains that the improved viewing options do not change his returns policy, which is 100% refund within 2 weeks of receipt for originals. "The difficulty of monitor setup can still mean the image viewed on the screen may differ slightly in hue from the original making an internet returns option essential for client peace of mind.
The site's homepage is clean and elegant using black as a background with an uncluttered design. Visitors can choose between 1 of 3 galleries or quickly view the latest 4 paintings released. The front page also exhibits the most viewed painting of the previous month, recent news and articles although these are far enough down the home page so as not to interfere with the main objective of the site, the display of artwork.
Easy Browsing, Easy Purchase
Being able to quickly browse the galleries has been made possible with an intuitive horizontal scroll function that keeps all other website functions in view throughout. Once a painting is identified, the buyer can view it closely or at full screen, regardless of their monitor size. When the urge to buy brews a purchase can be made within 3 clicks if they have a Google account or via a single screen if paying by credit card.
Limited Options
By limiting the number of paintings on display and providing only the choice between the original and 1 of 5 full size limited edition prints, the website helps focus attention on Marcus' current works rather than flooding the buyer with art that can easily lead to browser fatigue. "It's a fine line between providing choices and not boring the client silly, especially if they have only recently viewed my site". Also, this concept generally means that at least half the paintings will still be for sale and all will have at least 1 limited edition print left in their production run.
Seizing the moment
2010 started on rocky ground with Marcus breaking his leg twice at the beginning of the year. "I lost my rhythm for a few months, but that's mending too". It doesn't look like anything is going to push Marcus off course. It was during this period of convalescence that the new direction in web promotion was conceived. The site has taken some time to develop and test culminating it its official release on October 1st, 2010.
About Marcus Krackowizer
It seems that no matter what obstacles are put in the way of the British artist Marcus Krackowizer, a striking and vibrant collection of contemporary artwork continues to be released from his studio. Although Marcus is and has been a professional artist for 5 years, having emerged from the world of aerospace engineering, for most of us he can be considered new. His work is fascinating and varied with a common theme being his extensive use of pallet knives. This and the fact that he mixes a lot of the paint on the canvas results in a contemporary impressionist style, a label he has accepted and embraced with the launch of his new website, http://www.modern-impressionist.com.
His use of dreamy light and warm colours displays a positive view of the world while his cityscapes display a hint of loneliness, solitude in an otherwise constant buzz. His point surely is that you can be alone anywhere however whether you're lonely or not is a state of mind.
# # #