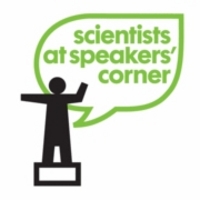 (PRWeb UK) June 12, 2010
In a bid to cut out the middle man and answer some of science's burning questions, the Zoological Society of London (ZSL) is gathering together the UK's leading scientific brains to talk at Speakers' Corner.
On Monday 14 June 2010, scientists will take to their soapboxes at the world's most famous debating arena. They'll be tackling three broad themes of Earth Evolution, Earth Challenges and Earth Solutions, but they'll be expecting YOU to lead the debate.
Scientists at Speakers' Corner will cut through the scientific jargon and give you the truth behind the headlines. So if you're fed up of reading about 'climategate' and hearing that that the earth's going to be swallowed up by a black hole created in Switzerland, join the debate to get the facts first-hand.
Science is all about asking questions – now it's your turn!
Scientists at Speakers' Corner: Monday 14 June 2010, between 12pm and 3pm. To find out more visit http://www.zsl.org/speakerscorner
Notes to Editors

Founded in 1826, the Zoological Society of London (ZSL) is an international scientific, conservation and educational charity: our key role is the conservation of animals and their habitats. The Society runs ZSL London Zoo and ZSL Whipsnade Zoo, carries out scientific research at the Institute of Zoology and is actively involved in field conservation overseas. For further information please visit http://www.zsl.org
Scientists at Speakers' Corner is funded by a grant from the Research Council UK National Science and Engineering Award. For further information about the, please visit: http://www.rcuk.ac.uk/scienceweek
###