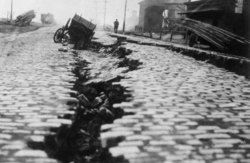 San Francisco, CA (Vocus) February 7, 2010
Long before an earthquake of a large magnitude strikes there are many steps to take to prepare a home and family. Don't put this off because the sooner a family takes the time to follow these five easy steps the better.
1.) Look for potential hazards at home. Think of things like heavy bookshelves and other tall furniture. Being trapped under these items may cause injury and death so be sure attach them to the wall studs. Think about other heavy objects that may fall during an earthquake and secure them too. To avoid fires fix any leaky gas connections, know where your gas turn off valve is, and repair any faulty wiring.
2.) Find the safest place to be inside and outside during an earthquake. Inside always move toward the inner walls and stay away from windows during an earthquake. Outside look for a big open area away from other buildings, trees, and overhead structures.
3.) Have a family meeting about what to do when an earthquake happens. Show all family members where and how to turn off gas, electric and water. Prepare a battery-powered radio with the emergency station marked on it and make sure all family members know where it is kept. Make sure everyone in the family knows how to dial 911.
4.) Make an emergency supply kit. Include items like: a flashlight and extra batteries, portable battery-operated radio and extra batteries, first aid kit and manual, food and water, non-electric can opener, essential medicines, cash and credit cards, and sturdy shoes.
5.) Create an emergency plan of action for the family. In case the earthquake happens when the family is not all at home, choose a meeting point or plan to get everyone back together. Choose an out of state emergency contact so that in the event that everyone can not regroup the family will have someone to contact and communicate through.
Safety in the home is an important concern and being prepared is a great first step. CPR and first-aid certification is a great way to be prepared to help loved ones if they are hurt or injured. Safety Training Seminars in San Francisco offers a wide array of CPR and First-Aid training classes. There is no time like the present so be sure to check out the class schedule today.
Visit us at:
http://www.safetytrainingseminars.com
# # #