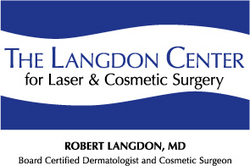 This procedure is a safe and effective way to enhance the size of the breasts, while simultaneously removing fat where it's not wanted, all without invasive surgery
Guilford, CT (Vocus) May 14, 2010
Dr. Robert Langdon, Medical Director at The Langdon Center, launched the latest technique in Breast Augmentation. His technique utilizes fat that is extracted during a liposuction procedure and is then transferred to the breasts where it can typically increase breast volume by 1 - 2 cup sizes. One of the benefits of this procedure is the removal of excess fat from body areas such as abdomen, hips and buttocks, where fat removal is most desired.
"This procedure is a safe and effective way to enhance the size of the breasts, while simultaneously removing fat where it's not wanted, all without invasive surgery," states Dr. Langdon, Medical Director of The Langdon Center. "The best candidate for Natural Breast Enhancement is that person who has lost fullness in her breasts due to age, weight fluctuations or breast feeding, and desires an increase in size and fullness of up to 1 to 2 cup sizes."
The procedure is performed using the Body-Jet® Water-Assisted Liposuction device, which utilizes pulses of water to gently harvest fat from the donor areas. The fat is collected in a sterile container, transferred to syringes, and then carefully placed into the breast using a specialized injection cannula. Unlike laser lipolysis, the Body-Jet® keeps the fat cells healthy so that they can take their new place within the breast tissue. While there is some decrease in breast volume after the procedure due to loss of fat cells that do not successfully "take," the fat injections result in a permanent 150 cc to 250cc overall breast size increase, which results in a 1 or 2 bra cup size increase. A support bra is used after the procedure to ensure that the fat remains in place.
The standard breast augmentation procedure usually takes about 4 to 5 hours, which includes the fat harvesting portion of the procedure, and is performed under local anesthesia. Downtime is minimal with only a few days away from work or strenuous activity required.
"It is important for the public to know that although there are many myths about this procedure, the American Society of Plastic Surgeons issued a policy paper supporting the safety of Natural Breast Enhancement in March, 2009," says Dr. Robert Langdon. "New techniques have made this procedure a safe and effective alternative for breast enhancement. One popular myth is that most of the fat cells die, making the procedure ineffective; however, new techniques result in 85-90% fat cell survival."
For a complimentary consultation or more information on Breast Augmentation at The Langdon Center call (203) 453-8625.
About Robert Langdon, MD:
Dr. Langdon, a graduate of the University of Oregon Medical School, completed his residency in dermatology at Yale-New Haven Hospital. He is board certified by the American Board of Dermatology and the American Board of Cosmetic Surgery. Dr. Langdon has published numerous scientific articles in medical journals as well as book chapters in surgical textbooks. In addition, he is the author of "Understanding Cosmetic Laser Surgery", a book written for consumers to help them better understand lasers and cosmetic surgery. Dr. Langdon is a member of the medical staff of Yale-New Haven Hospital and is a Clinical Associate Professor of Dermatology at Yale University School of Medicine. Dr. Langdon is a member of the American Society for Laser Medicine and Surgery, The American Society for Dermatologic Surgery, the American Academy of Cosmetic Surgery and the American Society of Lipo-Suction Surgery.
About The Langdon Center for Laser & Cosmetic Surgery:
The Langdon Center for Laser & Cosmetic Surgery offers the latest in cosmetic medical and surgical treatments in their Guilford, CT office, which is conveniently located off exit 58 on I-95. Medical Director, Robert Langdon, MD, Board Certified Dermatologist and Cosmetic Surgeon and his highly skilled team provide custom programs coupled with personalized care to meet the needs of each patient. Many of the treatments and procedures have minimal to no downtime. Services include: ZERONA®, BOTOX®, Restylane®, Sculptra®, Radiesse®, Evolence®, Micro Laser Peels, Photo Facials, Skin Tightening, Fraxel Skin Resurfacing, Laser Hair Removal, Laser Tattoo Removal, Laser Vein Removal, Express-Lift Face-Lift, Endoscopic Brow-Lift, Laser Eyelid Lift, Tumescent Liposuction and Laser Lipolysis. The Langdon Center also carries physician level skin care products. Initial consultations are complimentary. To book your consultation or to request more information please call 203-453-8625 or visit http://www.langdoncenter.com.
###