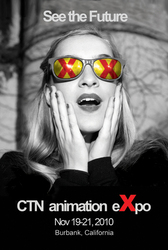 Since its inception The Creative Talent Network® has stood alone as the exclusive community of top talent animation creators.
(PRWEB) October 11, 2010
Back in its second year the Intl CTN animation eXpo® has already captured both the industry and local community's attention as a significant resource for education, employment, business opportunities and most of all FUN!
"We are proud to welcome the Creative Talent Network® back to Burbank," says Burbank Mayor Anja Reinke, "The animation community is quickly becoming a worldwide job growth creator and it's no secret that Burbank is home to some of the largest and most successful animation and film studios. We look forward to once again hosting this international community of talent for the second annual Animation Week and CTN Animation Expo."
Since its inception in 2004 The Creative Talent Network® has stood alone as the exclusive community of top talent animation creators and host to this seminal event. Their simple motto: "Putting The Talent Center Stage" gives everyone a privileged peek at the inspiring knowledge base and passion that looms large behind the creation of hit stories, memorable characters and magnificent worlds all shared through the form of Live Demonstrations, Master Workshops, Panel Discussions, and Screenings.
"I hope you realize the impact this event has on our students. CTN sets the wheels in motion for the rest of their lives. CTN is some gift!" -- Peggy Flynn - Arts Coordinator Burbank Unified School District
This year CTN is proud to announce in an Exclusive US Appearance the legendary comic artist, Jean Giraud Moebius, in his first US appearance in over 15 years. Additional event presenters include Chris Sanders and Dean DuBlois award winning directors from Dreamworks Animation, New Yorker Magazine Illustrator and Character Designer Carter Goodrich, Master Designer and Illustrator Tadahiro Uesugi from Japan, Sergio Pablos screenplay writer of "Dispicable Me", the independent talents from "Headless Studios" from Spain and over 80 additional world class talented artists and industry leaders from some of the highest grossing films in the history of animation. The event will also open this year with an exclusive screening of the feature animated 2d film from Django Films "The Illusionist".
"The sheer volume of talent and information is mind-blowing! -- like a candy store for animators." -- Katie Koskenmaki - Artistic Development Coordinator DreamWorks Animation
Expo sponsors include Dreamworks Animation, Woodbury University, The Marriott Hotel, The Art Institute Hollywood, Walt Disney Animation, Disney Toons, Disney Television Animation, Aniboom, Toon Boom Animation, Ai Hollywood, Sony Pictures Animation, The City of Burbank, Blue Sky Animaton and Warner Bros with over 25 additional industry focused exhibitors.
"CTN really outdoes itself. I loved that it's about the artists! The panels are great and there is a perfect balance between fan and pro!" -- Chris Bailey - Animation Director "Alvin and the Chipmunks"
The International CTN animation eXpo® will take place at the Burbank Marriott Convention Center with ample discounted parking and conveniently located across the street from the Burbank Airport and Amtrak Station. Tickets are available for $55 for a day pass and $120 for a 3-day pass. Discounted rates are available to students, active military and professional industry organizations. Connect with the best at this once in a lifetime event. For more information please visit: http://www.ctnanimationexpo.com or call, (800) 604-2238. To register online now visit CTNX Registration.
# # #