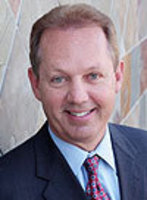 I was surprised when I saw a KSL camera come into my office
Provo, UT (Vocus) October 22, 2010
KSL TV surprised Dave Young, President and founder of Paragon Wealth Management, with a High 5 for creating the Live Your Dream Scholarship for single mothers who are widowed or divorced this year.
Each week KSL TV gives a "High 5" to a person in the community who is doing good things. They have teamed up with Les Schwab to celebrate people all over Utah that are making a difference. According to KSL's website, some of these people are saving lives, others are giving their time and effort to help those in need. Each person who is recognized receives a gift basket and a $100 gift card to Les Schwab.
"I was surprised when I saw a KSL camera come into my office," said Young. "I wasn't expecting anything like that."
KSL interviewed Young about the Live Your Dream Scholarship. He said he started the scholarship because his daughter, Katie Bunnell, was widowed several years ago and had a difficult time finding a way to go back to school. He said he wanted to help women in similar situations attend college.
This year Young has given away two full-tuition scholarships, and plans to give another away by the end of the year.
"We didn't realize the impact the scholarships would have on these women until we started giving them away," said Young. "We are happy to be able to make a difference in their lives."
About Paragon Wealth Management
Paragon Wealth Management is a wealth management firm that actively manage all types of traditional and retirement accounts such as IRA and 401(k) rollovers, and pensions and trusts. Paragon is a registered investment advisor and has fiduciary responsibility. Paragon received the Best of State Award in Financial Services in 2008, was listed on Wealth Manager Magazine's Top Wealth Managers List in the U.S. in 2008, received the Small Business of the Year Award in 2008, and was listed on WealthManagerWeb's Top Wealth Manager's list in 2010. Call 800-748-4451 for more information.
Paragon cannot guarantee the accuracy of information from other sources. Opinions are as of the dates indicated only. This report is not a solicitation for any security. Past performance is not a guarantee of future results. Investment performance reflects time and size-weighted geometric composite returns of actual client accounts. Investment returns are net of all fees and costs. The S&P Index is a diversified, size weighted index of 500 stocks.
###