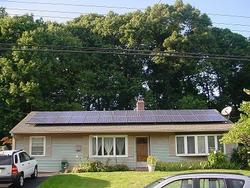 DCS Energy's lease plan allows the sun's production of electricity to pay for the system.
South Glastonbury, CT (PRWEB) February 1, 2010
DCS Energy, a division of DataComm Services LLC, announced today that, Feb. 1st 2010 is the release of its DCS ENERGY LEASE PLAN. The DCS Energy Lease Plan makes it very affordable with probably the lowest net cost for a solar PV system in the USA.
"Most home and business owners throughout the U.S. must contend with a 10-20 year return on investment for going solar. DCS Energy's lease plan essentially has the sun's production of electricity pay for the system" said Craig Bradway, president and owner of DCS Energy and DataComm Services. "The DCS Energy Lease Plan helps make solar affordable for the everyday home and business owner. Now owners can not only do the right thing by going green to help our environment and country, but they can definitely help themselves with their electric bill too."
The DCS Energy Lease Plan requires a modest deposit, $5 a month lease payment for 60 months and a $1 buyout after the 60th month. For example, a homeowner in CT, NY, MA or PA pays a deposit of $5,000 for a 4.5 kW system that produces about $90 of electricity a month. The homeowner pays $5 a month via credit card and after the 60th month pays $1 to own the system. The estimated solar electric production for this 4.5 kW system is $5,400 for the 60 months. The homeowner would have paid a total of $5,301 to DCS Energy after 60 months. Thus, the homeowner actually makes money on this plan during the 60 months of the lease and then owns the system with its future electric production. "We wanted to make it easy for every home and business owner to do his or her part to go solar, " Bradway said. "Our lease plan really gives people a way to reduce their energy bill and go green without any hassle. "
"We do everything in providing the installation of the solar PV system including USA made solar products. We make a point of using USA made products and as far as the solar site, we just need a southern facing area on a roof or ground that does not have shade or obstructions during the middle part of the day, " he said.
DCS Energy receives the state rebates to help compensate the company for the cost of the system. "It is a very special circumstance right now where we can actually use some of the state rebate money and federal programs to assist the everyday home and business owner with their desire to go green, help our country and control their energy costs, " Bradway said. This lease program is for home and business owners and will eventually go national after the initial role out in CT, MA, NY and PA. "We are currently expanding our dealer network which consists of electrical contractors and will offer this program throughout the continental USA, " Bradway stated. There will be a limited number of the lease plans available for 2010. Bradway explained, "We expect these to go pretty quickly and it definitely will be the early bird who gets the worm."
The DCS Energy also provides the Energy Miser for home and business owners to conserve electricity.
For more information, visit http://www.dcsenergy.com or call 860-657-0675
About DCS Energy
DCS Energy was created in 2006 as a division of DataComm Services LLC to provide energy solutions for both home and business owners. DCS Energy went solar with its first projects in 2006. The DCS Energy Miser was released on Feb. 22nd 2007.
Contact:
Craig Bradway
DCS Energy
President
PO Box 320
South Glastonbury, CT 06073
860-657-0675
http://www.dcsenergy.com/
# # #