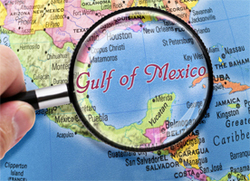 Ashburn, VA (Vocus) February 17, 2010
The move to deep water is nothing new for the U.S. Gulf of Mexico (GOM). If anything, the move has accelerated in recent years. Projects here, as a class, have unique challenges and risks that need to be understood and mitigated to succeed. Interestingly, some have been more successful than others at applying past project lessons to succeeding projects. According to early findings of a study sponsored by Independent Project Analysis, Inc. (IPA), the fast learners can capture a 20 percent cost advantage per project on a dollar-per-barrel basis for wells and facilities scope.
The Deepwater Gulf of Mexico study, underway since the start of 2010, will pool the learnings from a number of operators' deepwater GOM projects and distill them into deepwater GOM Best Practices, identify root causes of poor outcomes, and guide later projects on cost and schedule planning. The study will examine projects in greater than 300 m of water and also focus on the subset of projects in greater than 1,000 m of water.
Cost is not the only measure of project success and this study will also measure the performance of this class of projects in terms of production delivered (as opposed to production promised at sanction). Historically the exploration and production (E&P) industry has missed its first-year production promise by an average of 26 percent. IPA expects this particular metric to be more troublesome in the deeper waters where hard cost/data acquisition trade-offs are made more frequently than in shallow waters. To that end, a specific component of the study's charter is to understand how effectively the appraisal of the initial developments in the Lower Tertiary and subsalt trends have quantified risks to production profiles.
IPA will base its study on data from more than 40 completed capital projects executed by 8 American and European companies in the deepwater GOM. Under evaluation is project performance based on scope-for-scope comparisons between projects executed by the super-majors and independents in the U.S. GOM.
About IPA
Since its founding by Edward Merrow in 1987, IPA has rapidly evolved into the preeminent consultancy in project evaluation and in project system benchmarking, and has become the industry leader in quantitative analysis of project management systems. Our staff of about 140 project and research analysis professionals at seven offices on five continents serves hundreds of clients. The largest oil companies, chemical producers, pharmaceutical companies, minerals and mining companies, and consumer products manufacturers enhance their capital productivity using IPA's Project Evaluation System (PES®) and project system benchmarking services. Further information can be found at http://www.ipaglobal.com Excellence Through Measurement®.
###