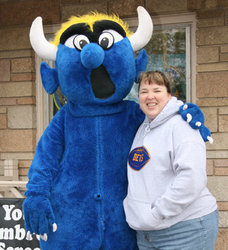 "Last year (our first) we gave a total donation of $540.00 and we're hoping to increase that by 30% this year."
Gurnee, IL (PRWEB) September 14, 2010
Warren Township High School Blue Devil Boosters, athletes, and athletic supporters will be gathering at Designs On You for a Homecoming Tailgate Party to benefit the Blue Devil Booster Club. Party-goers will enjoy free hot dogs, chips, cookies, door prizes, raffles, and a meet and greet with the high school's mascot, the Blue Devil.
"We're very excited to be holding this fundraiser again this year" says Salinas, owner of Designs On You Embroidery, Screenprinting, Spiritwear & Gifts, 33277 N. Highway 45 downtown Wildwood, IL. Despite the economic climate, Salinas feels compelled to give back to the community and will donate 25% of all retail sales during the event to the booster club. "Last year (our first) we gave a total donation of $540.00 and we're hoping to increase that by 30% this year." In an effort to reach that goal Designs On You has also designated four additional dates as "Booster Bonus" days where the boosters will receive an additional 10% of retail sales when the varsity football team wins certain games. "I thought it would be a little more fun if we tied the extra donation to the team's performance" said Salinas "as the team wins, people naturally want more spiritwear and I'm happy to share that with the boosters."
The event is held annually on the Saturday before homecoming. Salinas says she figures that date will give the biggest benefit to the boosters as everyone wants spiritwear before homecoming and even though her son is long graduated she still enjoys celebrating the WTHS homecoming. "The most exciting part for me is having the Blue Devil here" says Salinas with a smile, "I get like a ten year old kid saying 'Oh my gosh…the Blue Devil is here!' It's really cool that the township kids, as well as high schoolers, get to come and meet him and get their photo taken with their mascot." The festivities run from 10:00 a.m. until 3:00 p.m. with door prizes every 15 minutes and drawings for a $50.00 gift certificate and a Holloway Sportswear jacket at the end of the day from Designs On You.
"We're celebrating our sixth anniversary this year and I can't think of a better way to give back to the athletic program and high school that my son was, and so many of my customers are, a part of" says Salinas, "I'm looking forward to a really successful event that will show our loyal support for WTHS and high school athletics."
###