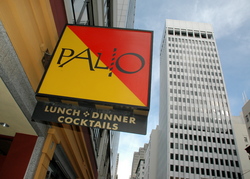 Italian white truffles are the top delicacy to try in the fall. They are known to complement subtle, rich, white foods such as risotto, mushroom dishes such as Pizza Quattro Fungi and Veal, and Palio's signature Mezzelune pasta.
San Francisco, CA (Vocus) November 4, 2010
Nothing says fall like Palio D'Asti's annual 'Noble Country Dinners' showcasing black, white and chocolate truffles in downtown San Francisco on Friday and Saturday, November 12 and 13. This year the restaurant, which was recently named a top 'Best of the Bay Italian' choice by sfgate.com viewers, will host the five-course prix fixe menu at 6:30 p.m. The price is $75 (exclusive of tax and gratuity) and multi-course wine pairings are available for an additional $45. Reservations are required.
The dinner affords adventurous and savvy diners an opportunity to savor white truffles, the best of which are found by small dogs in the Piemonte region of Italy and can cost $2,000 a pound. Also on the menu will be popular black truffles from the South-west of France and organic, single source Amedi flavored Italian chocolate truffles- a Palio San Francisco exclusive.
While the season lasts, Palio d'Asti's annual fall love affair with truffles also will be on display via daily specials at lunch and dinner - with the option, when available, to be added to any dish upon request. According to Palio's chef-owner Dan Scherotter, "Italian white truffles are the top delicacy to try in the fall. They are known to complement subtle, rich, white foods such as risotto, mushroom dishes such as Pizza Quattro Fungi and Veal, and Palio's signature Mezzelune pasta." Definitely"...An experience to be savored, they go especially well with a Barolo, Barbaresco or Barbera from Piemonte, all wine regions well represented on our Wine Spectator award winning list."
About Palio d'Asti
Palio d'Asti offers an authentic and pleasurable dining experience among San Francisco restaurants. Conveniently located at 640 Sacramento Street in the Financial District, Palio D'Asti features classic and contemporary Italian regional cuisine combined with exceptional service at the ala carte lunch, well-priced prix fixe dinner options of 2, 3, or 4 courses and the best San Francisco happy hour featuring $1 pizza. With several private rooms available for group dining, Palio d'Asti is also the ideal San Francisco party or corporate meeting venue. For more information and reservations, call (415) 658-9295 or reserve online at http://www.paliodastisf.com
###