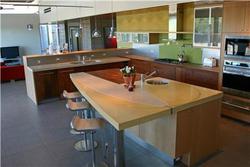 Calimesa, CA (Vocus) February 19, 2010
ConcreteNetwork.com exposes the top six issues that arise with DIY concrete countertops in an effort to educate novice builders on the difficulty of building countertops made from concrete. The site outlines each issue by covering what may have caused it and steps to take to prevent or fix the problem.
The six most commonly reported issues to occur involve:
1. Cracks
2. Compressive Strength and Reinforcement
3. Sink Holes
4. Air Bubbles
5. Types of Cement
6. Water-Cement Ratio
Because of the possibilities outlined above and many others, homeowners are encouraged to carefully review their project and examine the difficulties they may run into. For those not ready to take on the pressures of building a custom countertop for their kitchen, The Concrete Network provides a directory of local concrete countertop artisans that can help.
DIY concrete countertops should not to be taken lightly. Because the likelihood of experiencing one or two issues is inevitable, one should consider attending one of several training classes available throughout the country before taking the plunge.
For more information on countertops, visit countertop professional, Jeff Girard's blog on countertop solutions.
Established in 1999, The Concrete Network's purpose is to educate consumers, builders, and contractors on popular decorative techniques and applications. These include stamped concrete, stained concrete floors, concrete countertops, polished concrete, and much more. Over 11 million people visited ConcreteNetwork.com in 2009 to research, get ideas and to find a contractor.
The site excels at connecting buyers with local contractors in their area through its Find a Concrete Contractor service. The service provides visitors with a list of decorative concrete contractors throughout the U.S. and Canada, and is fully searchable by more than 20 types of decorative concrete work in over 200 regional areas throughout North America.
Attached photos courtesy of Concrete Interior Designs in Phoenix, AZ.
###