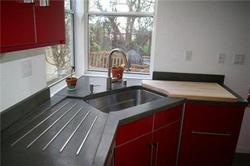 Calimesa, CA (Vocus) March 18, 2010
The spring season has always been an ideal time for homeowners to take on new projects. In an effort to educate the DIY community on the challenges associated with DIY concrete countertops ConcreteNetwork.com offers five reasons why such projects are better left to professional contractors.
Frequently overlooked, the intricacies of building concrete countertops often leave DIY aficionados seeking professional help. Here are some reasons why:
1. Buying the right cement type. There are five types of Portland cements available and not all are ideal for building concrete countertops. Choosing the wrong type can have severe adverse effects on the outcome of the countertop.
2. Using the right water-cement ratio. Use of an improper ratio can result in excess shrinkage, cracking and curling, which can render the countertop unusable.
3. Cast-in-place or built off-site, both offer challenges. By building a countertop in-place, one must consider the inconvenience of a temporarily unusable space and the mess associated with such a project. Building off-site will require the movement of the piece, which can be extremely heavy, and often require a crew of people to lift and maneuver into place.
4. Measuring for a proper fit. There's no such thing as a straight wall. Even careful measurements can be thrown off by slight bows that could interfere with the proper fit of the countertop, making it too tight in some spots. Incorrect measurements can lead to gaps or worse, an unusable countertop.
5. Determining the right sink hole size. Since not all sinks are created equally, in size or installation method, each requires special measuring considerations to ensure a proper fit when the time comes to install it.
These are just a few of the obstacles that may arise when building concrete countertops. Because of the unknown possibilities, The Concrete Network encourages homeowners to leave such complex projects to the concrete artisans that specialize in creating concrete countertops and know the ins and outs of the building process.
Visit ConcreteNetwork.com's online directory of concrete contractors to find a countertop professional near you.
For more information on the challenges of DIY concrete countertops visit ConcreteNetwork.com.
Established in 1999, The Concrete Network's purpose is to educate consumers, builders, and contractors on popular decorative techniques and applications. These include stamped concrete, stained concrete floors, concrete countertops, polished concrete, and much more. Over 11 million people visited ConcreteNetwork.com in 2009 to research, get ideas and to find a contractor.
The site excels at connecting buyers with local contractors in their area through its Find a Concrete Contractor service. The service provides visitors with a list of decorative concrete contractors throughout the U.S. and Canada, and is fully searchable by more than 20 types of decorative concrete work in over 200 regional areas throughout North America.
Attached photos courtesy of DC Custom Concrete in San Diego, CA.
###