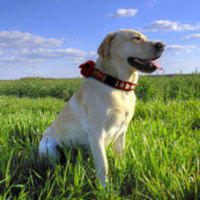 The LovemypetsGPS Pet Safety Collar was born out of discussions regarding the overwhelming impact of Hurricane Katrina and the thousands of pets who had become stranded from their owners.
Fort Myers, FL (PRWEB) July 27, 2010
Gone are the days of "lost Dog" posters. Thousands of dogs are lost annually the loss of our "furry Friends" can be emotionally devastating. Many times our pets "escape" without our knowledge or at times when we are not around. Love My Pets GPS provides affordable Dog GPS solutions that can alert you when your pet leaves the yard and locate him almost instantly when he is lost.
The Love My Pets GPS Pet Safety Collar gives your immediate ability to proactively locate and even track a pet's position through state-of-the-art GPS technology and an online service. Additionally, the glow-in-the-dark and reflective elements of the collar will greatly enhance a pets safety at night.
"I was moved by an interview with a pet owner who was bewildered that his dog could not be located, even though it was tagged with an RFID chip," said Mike Macatee, founder of Love My Pets GPS. Hurricane Katrina stranded thousands of pets from their owners. Love My Pets GPS was founded to be proactive in recovering pets.
After significant testing and development, LovemypetsGPS Pet Safety collar is the result. The collar enhances your pet's safety in two ways: 1. The GPS unit makes recovery much quicker and easier if a pet is lost. 2. The reflective glow-in-the-dark collar material improves night safety, making the pet more visible.
"LoveMyPets safety collar, harness and leash presents a high-quality-glow-in-the-dark material that is non toxic and non radioactive," reports LoveMyPets managing member Mike Macatee. The glow pigments last more than 12 hours, then recharge in the daylight, so no bulbs or batteries are needed. The collar is expertly engineered with one of the highest reflective values on the market. The polyester webbing contains superior UV-resistance and stretches less than nylon. When wet, the collar also dries fast and maintains a consistent fit for your pet's comfort. A welded D-ring adds strength on the leash clip and acetal hardware keeps the product light and strong.
"All collars, harnesses and leashes are fray and fade-resistant that wash well, wear well and don't fade out," adds Macatee.
The bottom line with using a LovemypetGPS Dog Tracking GPS collar is that they provide peace of mind and will help ensure that a pet owner is not wasting time fretting about what is going to happen should your pet wander out of his home. These devices also come with a wealth of features that in turn will minimize a pet owners world to a more manageable size. At only $129.95 this award winning GPS unit provides superior pet tracking capability. The GPS unit is small, sturdy and lightweight for maximum comfort and durability.
These collars can be custom made for Search and Rescue Dogs or Service dogs. Love My Pets GPS provides upon request custom collars for Police K-9 Units, complete with printing on the collar. Our custom collars are provided with or without GPS units.
About Lovemypets:
Lovemypets, LLC, is a SC limited liability company with its corporate offices located in Louisville, KY. Lovemypets offers the revolutionary LovemypetsGPS Pet Safety Collar, a Web-based pet GPS recovery system featuring a GPS locating and tracking solution and safety collar designed to support the owner's immediate recovery efforts of lost pets. The collar also helps protect the pet from darkness-related accidents, with an engineered glow-in-the-dark banding and a material with one of the highest reflective values on the market. The system's award-winning GPS unit locates and tracks both outdoors and in--even in heavily wooded areas and inside buildings--using both state-of-the-art GPS technology and cellular signals. To order, visit http://www.lovemypetgps.com or call 1-888-LUV-R-PET (1-888-588-7738). For media questions, contact Mary Ann McNutt 941-468-6643 or e-mail maryann (at) lovemypetgps (dot) com.
###