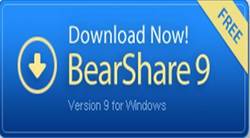 New York (Vocus) November 2, 2010
Bearshare 9 has just been released.
Musiclab releases Bearshare 9 file sharing software with a completely redesigned interface, giving it a great new look and feel, and is now available from the company's website at http://www.bearshare.com. Downloads and library management are faster and easier than ever before. It packs tons of new features, like iPod support, a music recommendation engine (DJ), and a very welcome set of new library views to show off album covers.
Bearshare 9 has a collection of over 20 million songs and videos available for download, straight from other users (Peer-2-Peer), and from major record labels. Other features include artist biographies, full albums, editorial playlists, and more.
The changes made to the interface make it very easy to use. The library is very fast, even with a large music collection. Scrolling through and finding music is easy, and you can always search your library if your music collection gets too big. Bearshare isn't just for music though, as the video player in Bearshare 9 has undergone numerous improvements – the software can play videos while they're docked in the interface, in a separate window, or in full screen. Bearshare 9 also introduces support for HD videos.
There's a music community built right into the main interface – people can browse and download each other's online music and video collections, upload photos, listen to music together, and more.
All of these features work together seamlessly, creating what's most certainly the best Bearshare yet. Free music downloads were never this easy. Get it now.
About Bearshare
Musiclab's Bearshare is an innovative social free music downloads software. It provides its users with access to the world's largest collection of legal free mp3 music download and videos, and integrates social features that allow them to download, discover, and share it with one another. To download Bearshare 9 or to learn more about it, visit: http://www.bearshare.com/
Contact Details:
Bearshare.com
635 Madison ave
New York NY 10022
Phone:+16468108713
Email: pr(at)bearshare(dot)com
Website: http://www.bearshare.com/
# # #