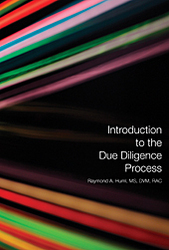 When I was first a regulatory affairs professional on a due diligence team, I was not aware of all the different players until I went through several due diligence exercises
Rockville, MD (Vocus) October 22, 2010
Due diligence is the term used to describe the process of evaluating potential business transactions or partnerships to identify and mitigate risk. As healthcare products, including pharmaceuticals and biotechnology-based products, are developed, manufactured and marketed in an increasingly complex and global regulatory environment, various agencies' regulations and intricate regulatory considerations can make or break potential business deals, large and small.
With regulatory professionals being called upon to play critical roles on due diligence teams, the Regulatory Affairs Professionals Society (RAPS) recently published Introduction to the Due Diligence Process, by Raymond A. Huml, MS, DVM, RAC, executive director of Global Due Diligence for Quintiles capital solutions, as a helpful primer on the subject for regulatory professionals and pharmaceutical executives involved in the due diligence process. Huml will lead a session on due diligence and the regulatory professional at the 2010 RAPS Annual Conference & Exhibition at the San Jose McEnery Convention Center, Tuesday, 26 October, 3:30–5:00 pm.
Huml's background in both regulatory affairs and due diligence makes him particularly qualified to author this helpful resource for those involved in this critical discipline at the intersection of business and regulatory intelligence.
"When I was first a regulatory affairs professional on a due diligence team, I was not aware of all the different players until I went through several due diligence exercises," said Huml in an interview available online at RAPS.org/multimedia. "What I think the book brings is that it provides an overview that wasn't available when I first started into it…You have to understand where the broader deal team is heading."
Introduction to the Due Diligence Process covers all major aspects of the due diligence process and includes easy-to-use checklists covering each functional area of expertise involved in the process as well as case studies as illustrative examples. The book's content is based on a series of articles published in RAPS' Regulatory Focus magazine over the last seven years.
Due diligence is performed prior to all manner of deals involving healthcare products, ranging from a single product transaction involving a single country and a single regulatory authority to more sophisticated global mergers and acquisitions. The companies involved could be small start-ups or large multinational corporations, and the products being investigated may be in development or already commercially available. Each potential deal is different and carries a unique set of business and regulatory implications that could have a major impact on the involved companies' bottom lines—for better or worse.
"The sensitivity around the sales forecast, the sensitivity around the accuracy of the product profile can have very large ramifications, so it is very important that the regulatory professional makes the correct assessment," said Huml.
About the Author
In his current position, Raymond A. Huml identifies risks associated with Quintiles' global product-based investments, working with specialists on all components of the due diligence process, including R&D, commercial, intellectual property and conflict of interest. He has worked on major transactions involving more than $2.7 billion in capital. Previously, he worked in biostatistics, medical writing and regulatory affairs for Quintiles. Huml has authored or co-authored numerous scientific publications and contributed more than 30 articles to Regulatory Focus on a range of subjects. He began his career as a veterinarian and has played an active role in industrial veterinary medicine.
Introduction to the Due Diligence Process is available online from the RAPS Bookstore at RAPS.org/Bookstore for $79.95 (US) for RAPS members or $99.95 for nonmembers.
For more information and a complete listing of the more than 70 conference sessions and events, visit RAPS.org/ac2010. Follow conference updates on Twitter with the hashtag #2010RAPS.
Members of the working media who wish to cover the 2010 RAPS Annual Conference & Exhibition should contact Zachary Brousseau, senior manager, communications for RAPS or register on site with valid press credentials.
About RAPS
The Regulatory Affairs Professionals Society (RAPS) is an international membership organization of regulatory professionals in the rapidly growing medical device, pharmaceutical and biotechnology sectors. Regulatory professionals play vital roles in making better healthcare products possible. They work throughout the healthcare product lifecycle, ensuring these products are safe and effective, while driving organizational strategy and sound decision-making. RAPS supports these individuals and the regulatory profession by providing education and training, Regulatory Affairs Certification (RAC), professional standards, research, knowledge-sharing, publications, networking, career development opportunities and other valuable resources; and is committed to helping its members continually develop the knowledge and skills they need to excel. RAPS is headquartered near Washington, DC, with offices in Brussels and Tokyo. RAPS.org
###