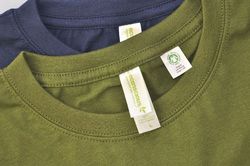 This film vividly illustrates why it is so important for consumers to ask for GOTS finished goods. Certification to GOTS helps ensure the integrity of the entire supply chain, not just the organic fiber that went into the product.
San Rafael, CA (PRWEB) October 19, 2010
Stefan Bergill of Econscious sustainable apparel company presented to representatives from regulatory, association, and non-profit institutions at the film premiere of "Global Organic Textile Standard-Ecology and Social Responsibility" hosted by the International Working Group (IWG) in Washington, DC. The film highlights the huge environmental impact of conventional textile production and how companies getting certified to the stringent standard can reduce this impact while also addressing important social concerns.
The premiere also served as an introduction to the IWG's newly appointed Regional Representatives who will drive an increase in the worldwide awareness of and certification to GOTS. Thus far, the IWG has appointed Representatives in U.S./Canada (Sandra Marquardt), Great Britain (Christopher Stopes), Japan (Yoshiko Ikoma), and Denmark (Elisabeth Tosti). Appointments in the German speaking countries and elsewhere will be made over the next year.
The event commemorated the two-year anniversary of the release of the GOTS logo in 2008, which manufacturers around the world have started to add to the labels of products certified to the standard.
About Econscious
The Econscious brand provides both the fashion and promotional markets with a comprehensive line of sustainable tees, hoodies, hats and bags, all made from certified organic cotton, recycled post-consumer polyester and other innovative, earth-conscious materials. From its inception Econscious committed one percent of its' sales to support the work of global environmental non-profit organizations. The brand's commitment to responsible manufacturing was further cemented when its supply chain for organic cotton bags and apparel was certified to the Global Organic Textile Standard (GOTS). Econscious brought the same commitment to sustainable business principles within its private label and custom products division, offering their customers a trust-worthy source for sustainable goods.
More About GOTS
GOTS is the stringent voluntary global standard for the entire post-harvest processing (including spinning, knitting, weaving, dyeing and manufacturing) of apparel and home textiles made with organic fiber (such as organic cotton and organic wool), and includes both environmental and social provisions for post-farm to retail shelf management. Key provisions include a ban on the use of genetically modified organisms (GMOs), highly hazardous chemicals such as toxic heavy metals and formaldehyde, and child labor, while requiring living wages and strict waste-water treatment practices.
Kriya Stevens
Econscious
http://www.econscious.net
877-326-6660
# # #