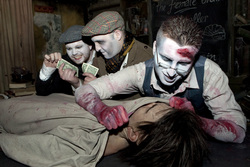 London, UK (PRWEB) February 3, 2010
This February the Edinburgh Dungeon opens its doors to the most terrifying attraction to date, Burke and Hare: the Business of Murder. A dank graveyard awaits visitors to the Dungeon as they enter the horrendous tale of Scotland's most infamous serial killers, William Burke and William Hare.
The Edinburgh Dungeon's Burke and Hare: the Business of Murder attraction tells the dark tale of how William Burke and William Hare, together with accomplices Helen McDougal and Margaret Hare, were accused of killing 16 people over the course of 12 months. The corpses of their victims were then sold to provide material for dissection.
This chilling Edinburgh attraction uses actor-led experiences and special effects to portray the Burke and Hare murders (also known as the West Port murders), which took place in Edinburgh from November 1827 to 31 October 1828. Once Burke and Hare had killed their victims by smothering and compressing the chest, the corpses were sold on to Doctor Robert Knox, a well-regarded private anatomy lecturer with a flourishing dissecting establishment, whose students came from the nearby Medical College. In fact the term 'burking' is often ascribed to a killing method in murder cases, which comes from the manner in which Burke and Hare killed their victims.
There had been a heavy decrease in the number of bodies available to dissect owing to a reduction in the execution rate around this time. This meant only 2 or 3 corpses were available for students to study. This state of affairs saw the rise of criminal activity to obtain specimens by any method.
Visitors to the Edinburgh Dungeon can discover how the gruesome murders were solved. One of the murderous duo's last victims was a young boy called James Wilson, more commonly known as 'Daft Jamie' because of his mental health. When Dr. Knox uncovered the body the next morning in the dissection lesson, several students recognized him. It was soon after this that both Burke and Hare were landed in custody and a hanging sentence followed for Burke.
About the Edinburgh Dungeon:
The Edinburgh Dungeon is part of the Merlin Entertainments Group where for over 30 years the Dungeons have brought some of history's darkest times back to life with a grisly mixture of live actors, special effects.
The Merlin Entertainments Group is the leading name in location based, family entertainment, which has seen the most successful and dynamic growth of any company in the sector over the last five years. The world's second largest visitor attraction operator, Merlin has 57 attractions, 6 hotels and 2 holiday villages in 13 countries, across 3 continents. Merlin Entertainments operates the following attractions – SEA LIFE including the SEA LIFE London Aquarium, Madame Tussauds, LEGOLAND, the Merlin Entertainments London Eye, Dungeons, Gardaland, LEGOLAND Discovery Centres, Alton Towers Resort, Warwick Castle, THORPE PARK, Chessington World of Adventures & Zoo, Heide Park, and Earth Explorer.
Contact information
For further information, pictures or a request to visit the Edinburgh Dungeon, or for info on sister Dungeons London, York, Amsterdam and Hamburg please contact: Ellie Cowley: PR Officer –Dungeons 01202 440066/ 07922 591684/ ellie(dot)cowley(at)merlinentertainments(dot)biz
# # #