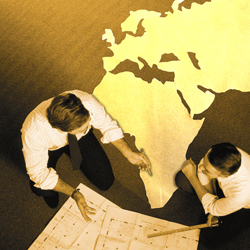 Ashburn, VA (Vocus) June 18, 2010
The results of three recent Independent Project Analysis, Inc. (IPA) research studies presented at the April 2010 European Roadshow of the Industry Benchmarking Consortium (IBC 2010) underline the key role that team development plays in delivering efficient capital projects. These studies, which investigated project performance in Europe, the Middle East, and South Africa (EMEA), reveal that projects helmed by well-developed teams can be up to 20 percent cheaper and executed up to 30 percent faster than projects with teams that lack integration or clear alignment with business plans.
Each study looked at key project practices, including Front-End Loading (FEL), team development, contracting strategy, project controls, and Value Improving Practices (VIPs) use and related them to outcomes. Despite some clear cultural differences between the regions in terms of the basic approach to capital projects, strong team development stood out as an important common factor for better schedule, cost, and operability performance. European projects were found to be the most likely to have strong teams, with around 75 percent of the teams being considered integrated at authorization. By comparison, only just over half of the teams in both the Middle East and South Africa were integrated.
However, recent data suggest that team integration in Europe has begun to decline, which is likely to have a detrimental effect on project performance over the next few years. By contrast, levels of team integration in the Middle East has been slowly increasing since the late 1990s as companies in the region, particularly the National Oil Companies (NOCs), have improved their project systems and recognised the importance of establishing strong teams for implementing those systems effectively. South African project team integration showed no significant trend during the same period.
These studies are part of Independent Project Analysis, Inc. (IPA) continuing research into local aspects of capital project effectiveness with the aim of improving understanding of regional specificities.
About IPA
Since its founding by Edward Merrow in 1987, IPA has rapidly evolved into the preeminent consultancy in project evaluation and in project system benchmarking, and has become the industry leader in quantitative analysis of project management systems. Our staff of about 140 project and research analysis professionals at seven offices on five continents serves hundreds of clients. The largest oil companies, chemical producers, pharmaceutical companies, minerals and mining companies, and consumer products manufacturers enhance their capital productivity using IPA's Project Evaluation System (PES®) and project system benchmarking services. Further information can be found at http://www.ipaglobal.com.
###