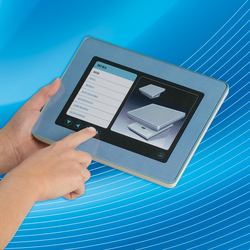 Each Interface-Terminal enclosure must look as if it were designed specifically for that application, and no other
(PRWeb UK) May 26, 2010
OKW has unveiled a new range of configurable standard plastic enclosures, the Interface-Terminal series. These enclosures can be assembled quickly and easily into base units, attached to wall brackets or carried as ergonomic handheld units.
They can also be quickly and easily configured to house membrane keypads and touchscreen displays – an important 'first' – plus fitted with contacts for charging and data sharing. All this is achieved by simply selecting the necessary case components from the standard range.
Interface-Terminal enclosures are aimed at design engineers who are developing versatile electronics products for a wide variety of applications. The versatility of these new enclosures complements OKW's existing ranges of:

Interface-Terminal cases are modular ABS enclosures which can be configured from an extensive range of basic case components. These are combined to create an individual case solution. The range of components includes:

basis housings in three plan sizes
front covers and plates – for use with membrane keypads and glass touchscreens
rear plates – including snap-in strips for versatile mounting and lowered mounting pillars for extra space
handheld options – such as a base section with battery compartments and charging points
desktop base stations
wall mounting plates.
Interface-Terminal cases can also be configured as IP54 enclosures, providing splash protection for the electronics.
Simple but clever design touches such as snap lock systems increase the versatility of the enclosures. Display units can be clipped into place in either horizontal/landscape or vertical/portrait format.
Mobile units and base sections are mounted not with traditional fixed connections but plug-in connectors to create a fast, easy and rational solution that removes the need for fault-prone rewiring.
These configurable enclosures enable designers to create products that are much more flexible and better suited to the demands put on the modern man-machine interface.
The large range of options makes it much easier to bring enclosures into the design process from the very beginning.
This will avoid the age-old problem of having to use too large an enclosure because the PCB size was specified at the start of the project without specifying the housing first.
OKW Sales and Marketing Director Robert Cox said: "The enclosures are contoured in such a way that – whether wall-mounted, desk-mounted or handheld – they always look completely at home in that role.
"If a configurable enclosure looks like a desktop unit bolted to a wall or a wall-mounted unit simply sitting on a desk, then it is not going to inspire confidence in the product that it houses.
"Each Interface-Terminal enclosure must look as if it were designed specifically for that application, and no other," he added.
Every component in the Interface-Terminal range has been designed to inspire engineers. They are also discrete and deliberately understated, enhancing the products they contain, without detracting from them.
OKW's new Interface-Terminal enclosures are also designed to co-ordinate with the company's existing case ranges.
This means that client companies which want to design units housed in different ranges of enclosures can do so without the designs clashing.
Key features of Interface-Terminal configurable plastic enclosures:

innovative case system for mobile, desktop or wall mounted terminals
superb modern and ergonomic design
operators can use the electronics as mobile or stationary units
four standard versions – fixed desktop, two-part desktop/wall, mobile and mobile with station
optional front panel styles – ABS cover and flat panel, aluminium front panel and glass panel
cases have also been designed to be compatible with touchscreens
battery compartment in top section for five 1.5V AA cells
the top section/mobile unit can be mounted to the base section vertically or horizontally
6 pole contacts for interconnection between mobile unit and station
internal screw pillars for mounting PCBs.
Material:

Protection class:

IP54 – cases with cover
IP40 – cases with aluminium panel.
Standard Colours:

Accessories:

anodised aluminium front panel
6 pole male/female contacts
Applications:
Peripheral and interface equipment, office applications, communications technology, safety engineering, biometrics, medical, wellness and laboratory technology, automation, measuring/regulating/controlling.
OKW can also supply custom enclosures fully modified and ready for mounting the electronic components.
Customising options include CNC milling and drilling of holes and cut outs for push-buttons, connectors and displays, plus silk-screen printed legends and logos, EMC shielding, painting or moulding in alternative colours and moulding in alternative materials.
For more information on configurable plastic enclosures, visit http://www.okw.co.uk or contact Sales & Marketing Director Robert Cox, +44 (0)1489 583858.
Words: 777
Notes For Editors
OKW ENCLOSURES LTD
15 Brunel Way
Segensworth East
Fareham
PO15 5TX
Tel: +44 (0)1489 583858
Fax: +44 (0)1489 583836
###