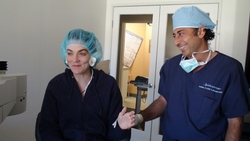 I am delighted to see 20/20 without the aid of glasses or contacts, I am thrilled!
Beverly Hills, CA (Vocus) April 8, 2010
We are proud to announce that Lauren English recently had successful LASIK surgery with Dr. Khanna. "It was pain free and very comfortable" said Lauren English. "I am delighted to see 20/20 without the aid of glasses or contacts, I am thrilled!"
Lauren English is a well known American actress. She has been in numerous movies and has acted in several performances in both theater and Broadway. As an experienced actress she has trained in several studios including; The Stella Adler Studio and the Thomas G. Waites Studio for advanced acting in New York City. She has also trained and performed in various acting studios in Los Angeles and is a recognized SAG and AFTRA member. In one of her most recent projects Lauren was part of the ensemble cast of William Shakespeare's "Hamlet" the production was shown at the New Jersey theater of Shakespeare. In previous years Lauren studied acting at the University of Santa Barbara and graduated with a BFA. In addition to acting Lauren is a singer, dancer and is an experienced voice over actress.
She currently has several projects she is working on; and it is for this reason that Lauren decided to get Lasik to improve her personal and professional life, and to make working on a set more manageable and less complicated. She is extremely pleased with the results and with the skill and competence of the Khanna institute. Los Angeles LASIK surgeon Dr. Khanna and The Khanna institute are honored to have worked with such a talented actress and they are excited to see her new films.
Dr. Rajesh Khanna, is a Los Angeles LASIK and Refractive Cataract surgeon with offices in Los Angeles and Beverly Hills. He is the founder and medical director of The Khanna Institute of Lasik and Refractive Surgery. Dr. Khanna has been voted as the best LASIK surgeon by popular choice by readers of Los Angeles daily news and Ventura County Star. Dr. Khanna has performed vision enhancements on many celebrities and athletes alike. Those we are able disclose include actor Corbin Blue from High School Musical, Disney channel star Brenda Song, Olympic silver medalist Ryan Bailey and Bas Rutten- Inside MMA host and UFC champion fighter. Rajesh Khanna, MD has been feature don the front cover of various magazines like Your Health Connection, Life after 50, Valley news and Beverly Hills times. He has also been featured in Santa Monica Star, Acorn, India West, Opinion Express and numerous other publications. Dr. Khanna has been interviewed and quoted by various radio talk. He is one the pioneers of Lasik eye surgery and is currently at the forefront for advanced eye procedures. He is an experienced and skilled Wave front LASIK, PRELEX and cataract surgeon, Dr.Khanna has performed over thousands of vision correction procedures. Contact: Kelly Schneider Rajesh Khanna, MD Khanna Institute of Lasik Surgery 50 N La Cienga Blvd Beverly Hills 90211 Phone: 805-230-2126 Fax: 805-230-2199 http://www.khannainstitute.com
###