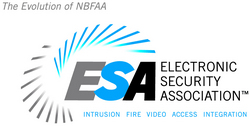 Irving, TX (Vocus) May 26, 2010
Children of police officers and firefighters from Indiana and Tennessee were awarded $10,000 in scholarships by the Electronic Security Association (ESA) through the ESA Youth Scholarship Program. Altogether, ESA and its participating Chartered State Associations awarded $41,000 in scholarships to 29 winners from more than 680 applications. The program has awarded more than $300,000 in scholarships since its inception in 1996.
Claire Williams of Greenfield, Ind. (hi-res photo) was the first place winner of the ESA Youth Scholarship Program and received a $7,500 scholarship for her outstanding essay and scholastic achievements. Claire will graduate second in her class of 284 students at Mt. Vernon High School in Fortville, IN. Her scholastic excellence has already proven invaluable as she has recently received an appointment to attend the United States Military Academy at West Point.
Claire's father, Craig Williams, is a lieutenant with the Buck Creek Township volunteer fire department. Her leadership efforts in school clubs and church functions, combined with her volunteer community service activities, illustrate Claire's deep sense of civic duty that was most certainly handed down by her father.
In her essay she wrote, "As I grew older, I could better recognize the deeper meaning of my dad's choice to get involved, as I began to notice his personal sacrifices such as time, sleep, and effort he made to serve at the fire house. His involvement inspired me to make a more personal difference as well. I started volunteering at the Julian Center, an urban domestic violence shelter, and spent my summers playing with children in the kids' program. It was one of the most beneficial experiences of my youth. I learned how much I have been blessed with, and how important it is for one to give back to his/her community. Even small efforts can make a big difference in the lives of others."
Kristian Maples of Gatlinburg, Tenn. (hi-res photo) was awarded second place and received a $2,500 scholarship. An active senior at Gatlinburg-Pittman High School, Kristian is editor of the school's yearbook, is an honors student, class leader and active volunteer in her community.
Kristian's father, Jimmy Maples, is captain of the Gatlinburg Police Department. In her essay, Kristian wrote, "My dad's tough policeman personality is very impressive, but he has another side that I find just as heroic. Aside from being an officer, he is a marriage counselor, a wedding minister, a Sevier County constable, a chaplain for the Fraternal Order of Police, and a charter member of the Sevier County Marine Corps League. He has also been a youth pastor, and a commander of the American Legion Post 202. My dad has proved to me that being 'busy' is not an excuse when it comes to helping people."
"Each year in these submissions we see the effect that a committed parent has on his or her child. The essays, along with the quality of each applicant's background, show how police and fire officials across the country are positive role models for the next generation. ESA is proud to reward the next generation of students who will help provide solutions in the years ahead for a more safe and secure world," said Dave Simon, ESA Public Relations Committee chairperson.
Both ESA and its Chartered Chapter Associations participate in the program. The first place winner of each state's program is automatically considered for the national ESA Youth Scholarship Program awards. This year, 14 Chartered Chapter Associations participated, an increase of two states over last year. Each state typically awards $1,000 or more in scholarships. Claire and Kristian both received an additional $1,000 from the Indiana and Tennessee Burglar & Fire Alarm Associations, respectively.
Students who reside in states without a chartered ESA chapter or in a state with a non-participating state association submit their applications directly to ESA. From these applications, one is chosen to compete against the state winners as the national nominee. The national nominee is awarded a $1,000 scholarship to honor that individual's achievement. This year's national nominee was Amanda Watson, a senior at William J. Palmer High School in Colorado Springs.
Students' applications are scored based on a combination of GPA, ACT/SAT test scores, an essay and extracurricular activity.
ABOUT ESA
Formerly the NBFAA, the Electronic Security Association (ESA) is the largest and longest established trade association representing the electronic life safety and security industry. Member companies install, integrate and monitor intrusion and fire detection, video surveillance and electronic access control systems for commercial, residential, industrial and governmental clients. In cooperation with an alliance of chapter associations, ESA provides technical and management training, government advocacy and delivers information, advice, tools, and services that members use to grow their businesses and prosper. ESA may be reached at (888) 447-1689 or on the Web at http://www.ESAweb.org.
###