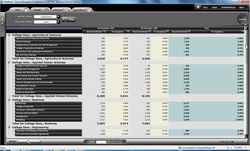 We are proud of the strides we have taken as a company to continue bringing our customers state-of-the-art, user-obvious software
SAN ANTONIO, TX (Vocus) March 2, 2010
eThority, a provider of user-obvious enterprise performance and productivity solutions, today announced the general availability of eThority Enterprise Edition version 4.0. This latest version of eThority's flagship product offers enhanced charting and SuperPivot functionality, and also introduces new capabilities in the form of PowerFields. These features allow end-users to easily extend their data beyond what exists in the system of record to better serve their needs, in a secure and compliant manner.
eThority Enterprise 4.0 gives users more flexibility and options when creating graphs and charts. These visualizations can be edited to represent different slices of the data on-the-fly in the graph viewing screen, enabling users to investigate different ways of viewing their information for more indepth insight. Version 4.0 offers a similar enhancement in its SuperPivot functionality. SuperPivot is eThority's pivot table metaphor, and in the latest version users can easily edit the groups and calculations without the need to start from scratch.
Version 4.0 of eThority Enterprise marks the addition of PowerFields fucntionality. PowerFields help users extend their data with the inclusion information relevant to their job needs. Research has proven that when users can access and track all of their data in one place, the existance of desktop spreadmarts and disconnected datasets is reduced. Other key elements of PowerFields include:

eXpression Builder: A drag and drop interface in which end-users can create formulas to apply to their data, and specify the conditions in which they're applied.
Substitution: Facilitates the simple exchange of one value for another, creating a new column from an existing column.
Benchmarks: Allows the inclusion of industry-, occupation-, or company-specific benchmarks for comparison against the performance of organizational data.
"We are proud of the strides we have taken as a company to continue bringing our customers state-of-the-art, user-obvious software," said eThority CEO Mike Psenka. "At the core of our development process are the specific needs of our customers and the industries we serve. It's not enough to provide business intelligence; we strive to offer real business solutions."
eThority Enterprise version 4.0 is now available to the general public and on display at the HEUG Conference in San Antonio from February 28th-March 2nd in booth 647. To learn more, please visit http://www.eThority.com.
About eThority:
Founded in 1992, eThority is provider of "user-obvious" enterprise performance and productivity software that empowers end users and offers IT an easily maintainable solution. In addition to eThority Enterprise, the company's flagship business analytics and reporting platform, eThority offers eXtensions: industry-specific modules design to fill critical gaps in existing systems. Organizations choose eThority Enterprise because it provides real time end-user interaction with data in a secure, state-of-the-art platform capable of scaling from a single department to thousands of users. eThority's solutions are in use around the globe at major research universities and leading corporations. For more information, please visit http://www.eThority.com.
###