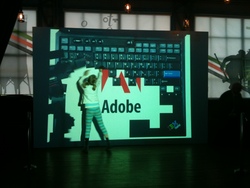 The EyeClick team was thrilled to be a part of the worldwide launch of Adobe Suite 5. We ourselves are fans of Adobe's software and were very excited to team up for this celebration
Atlanta, GA (PRWEB) April 29, 2010
On April 14, 2010 Adobe unveiled their Creative Suite 5 line of software (Adobe CS5). Fans gathered in Istanbul, Turkey to celebrate the worldwide launch of the fifth editions of Adobe Photoshop, Illustrator, Dreamweaver, and InDesign. There were over 650 participants as well as Adobe executives and specialists. The unforgettable event was produced by Medyasoft in partner with Alienfoot and featured live bands, stage performances, DJ's, speeches and movies demonstrating new product elements.
EyeClick was proud to feature the EyeWall and EyeStep at the event. Large screens were transformed into vibrant, virtual shows centered on the new products from Adobe. Whether they projected an interactive keyboard, exploding firecrackers, or an oscillating ocean, guests were enthused by the bold displays. EyeClick CEO Ariel Almos, noted, "The EyeClick team was thrilled to be a part of the worldwide launch of Adobe Suite 5. We ourselves are fans of Adobe's software and were very excited to team up for this celebration."
The EyeWall and EyeStep turn any open wall or floor space into an eye-catching, interactive wonderland. Imagine guests or clients literally stopping in their tracts as the floor or surrounding walls begin to react to their presence and movements. With the ability to integrate content into exciting templates as well as create customized content, the EyeWall and EyeStep can be tailored to produce any effect or theme you have in mind. Both displays uniquely enhance product launches, retail spaces, tradeshows, and more.
About EyeClick
EyeClick Ltd. specializes in creating inventive products that transform designated spaces into magical experiences. The company's EyeStep, EyeTouch and EyeBoard products open up a world of possibilities for brands to effectively communicate with target audiences in out-of-home locations. EyeClick has helped leading brands, from Samsung and Volvo to Nokia and GE, transform their floors, walls and window areas into spectacular interactive displays that leave a long-lasting impression on consumers. EyeClick gives event and trade show organizers, retailers, advertisers and media companies the ability to showcase rich interactive digital content in public spaces, including convention centers, promotions, malls, airports and chain stores.
###