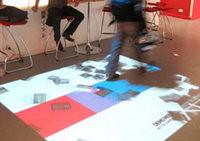 We hope to continue the wonderful partnership with EyeClick as we move forward and introduce our worldwide clients to innovative and digital communications
(PRWEB) May 19, 2010
The launch of the new Ogilvy Digital Lab in London will be taking place Wednesday, May 19, 2010. The Lab, a collaboration between all the WPP companies based near Paddington, will showcase the latest in digital technology giving staff and clients a firsthand look at some of the most innovative marketing platforms today. In the event, not only will guests be able to speak with Digital Lab Partners including EyeClick, but they will also be able to observe demonstrations and even interact with the various technologies.
As an Ogilvy Digital Lab Partner, EyeClick plans to present EyeStep interactive floor solution. EyeStep transforms any floor area into an exciting and effective marketing tool, literally stopping visitors in their tracts as the images react to their movements and engage them with the marketing message. EyeClick CEO and Founder Ariel Almos stated, "We are proud to be a part of the Ogilvy Digital Lab for the fourth time. Past Labs in New York, Beijing and the Canary Wharf in London were a tremendous success and we look forward to our collaboration at Westbourne Terrace in London." Nicole Yershon, Director of Innovative Solutions at Ogilvy Group Advertising, said, "We hope to continue the wonderful partnership with EyeClick as we move forward and introduce our worldwide clients to innovative and digital communications."
About EyeClick Ltd.
EyeClick Ltd. specializes in creating inventive products that transform designated spaces into magical experiences. The company's EyeStep, EyeTouch and EyeBoard products open up a world of possibilities for brands to effectively communicate with target audiences in out-of-home locations. EyeClick has helped leading brands, from Samsung and Volvo to Nokia and GE, transform their floors, walls and window areas into spectacular interactive displays that leave a long-lasting impression on consumers. EyeClick gives event and trade show organizers, retailers, advertisers and media companies the ability to showcase rich interactive digital content in public spaces, including convention centers, promotions, malls, airports and chain stores.
# # #