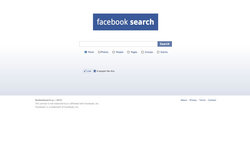 "With over 30 billion pieces of content shared in any given month, Facebook is a hugely valuable resource for information. The Facebook photo search feature of our service represents a compelling form of image search..."
Palo Alto, CA (PRWEB) November 16, 2010
facebooksearch.us is a potent new search tool that features the unique ability for users to search for photos from the millions of 'Pages' that form part of the Facebook social network. A familiar and intuitive search interface enables users to discover an almost infinite amount of photos and photo albums on almost any topic imaginable.
Facebook Search
With facebooksearch.us, users can search across posts, photos, people, pages, groups and events without the need to login or register a new Facebook account. The service is powered by the Open Graph API and functions in a similar fashion to the internal Facebook search system.
Privacy
The privacy of individuals is taken very seriously and the service does not expose data that has not been made explicitly public by Facebook. The Facebook photo search feature of this service does not access the photos or photo albums of individual Facebook users.
Try the service:
http://www.facebooksearch.us
About FBSearch:
Based in Wales, FBSearch develops practical web applications and tools.
###