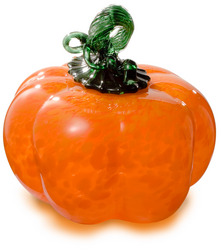 Corning, NY (Vocus) September 7, 2010
It's nearly harvest time again at The Corning Museum of Glass. Nestled in the heart of New York's picturesque Finger Lakes region, the Museum is offering a range of seasonal activities this fall inspired by the surrounding autumn landscape of green fields, vibrant foliage, apple orchards, and pumpkin patches.
In addition to the Museum's daily offerings (including the world's largest collection of glass, special exhibitions and live glass demonstrations), fall harvest activities at The Corning Museum of Glass include:
-See the World's Largest Glass Pumpkin: Last year, glassmakers at the Museum made the world's largest blown glass pumpkin—a beautiful, giant shiny orange globe measuring more than 32 inches in diameter and weighing in at about 70 pounds. The pumpkin-making process took a team of eight glassblowers, more than 50 hours of work, 17 attempts, a lot of shattered glass, and a number of lopsided prototypes. The pumpkin will be on display through October 31, 2010.
-Make Your Own Glass Pumpkin: Visitors of all ages can make a (hand-held) glass pumpkin in daily 40-minute glassblowing experiences. Open to all ages (as young as preschool), the pumpkin-making experience is offered through November 30, 2010, and costs $25 per person.
-Harvest Hunt through the World's Largest Glass Collection: Children can use a harvest-themed activity sheet to explore more than 45,000 objects and 3,500 years of glassmaking history. The Museum's collection ranges from a tiny portrait of an ancient Egyptian Pharaoh to fanciful modern-day sculptures—and nearly everything in between.
-Shop a Unique Glass Farmer's Market: On Columbus Day weekend, October 8–11, 2010, the Museum's international GlassMarket will feature a Glass Farmer's Market, with more than 7,000 glass pumpkins, apples, gourds and glass harvest-themed objects for sale.
Located in America's "Crystal City," Corning, NY, The Corning Museum of Glass is located midway between Niagara Falls (3 hours drive) and New York City (4 hours drive). The surrounding Finger Lakes region is populated by beautiful wine trails, featuring regional food and more than 100 wineries, and boasts outdoor attractions, including gorges and waterfalls and stunning fall foliage (perfect for leaf peeping!). Visitors to the area can supplement their glass pumpkins with a trip to the region's numerous pick-your-own pumpkin patches and apple orchards.
The Corning Museum of Glass is open 9:00 a.m. – 5:00 p.m. every day of the week. An independent, non-profit, educational institution, the Museum is dedicated to the art, history, science, research and exhibition of glass. Children and teens, 19 and under, receive free admission. Adult admission is $14.00 (local resident rates, AAA and other discounts available).
# # #